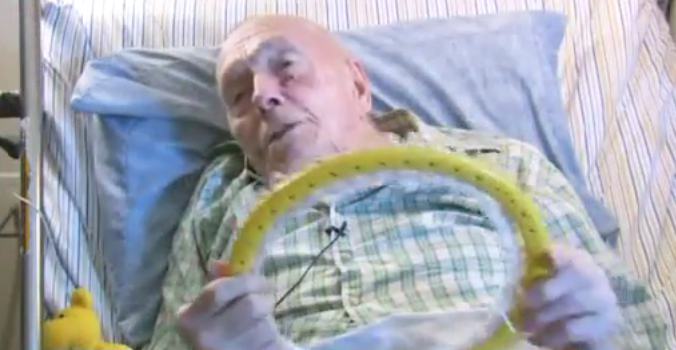 (Image: Screenshot/YouTube)
A 91-year-old Michigan man knows the power of giving, one stitch at a time.
For more than 15 years, Morrie Boogart of Grandville, Mich., has been knitting hats for homeless residents in the surrounding area of Grand Rapids.
Boogart sits in a hospice care bed with a picture of his late wife to one side, and a box of yarn on the other. Boogart has skin cancer and a mass on his kidney, but the generous man does not let that deter him from his passion of knitting for those in need.
"Why do I do it? It just makes me feel good," Boogart told FOX 17.
Even with Boogart's advanced age and the cancer that's ravaging his body, he still knits one hat every two days. Stitch by stitch, movement by movement, Boogart accomplishes his mission.
"This has been the best thing that's happened to me, because I just stay in my room," Boogart told the reporter. "I'm a bed patient for everything."
Boogart shows his humility by donating the hats to the homeless, and says that all he wants is for the people wearing his hats to be a little more comfortable in the oftentimes harsh Michigan winters.
"The hats have a rim around the edge to cover their ears and keep them nice and warm," Boogart asserted.
Whether Boogart asks for it or not, he deserves recognition for being so selfless.
According to FOX 17:
If you'd like to donate yarn or hand-made hats to Morrie, donations can be brought to Cambridge Manors located at 151 Port Sheldon Road in Grandville.