I'm not sure who Parkland activist David Hogg thinks he is to demand anything — well, besides a spoiled, entitled brat — but now he's calling for his Twitter followers to sign a MoveOn.org petition that demands Vice President Mike Pence cancel his speech at the upcoming National Rifle Association (NRA) convention in Dallas this Friday.
Here's the fear monger's tweet: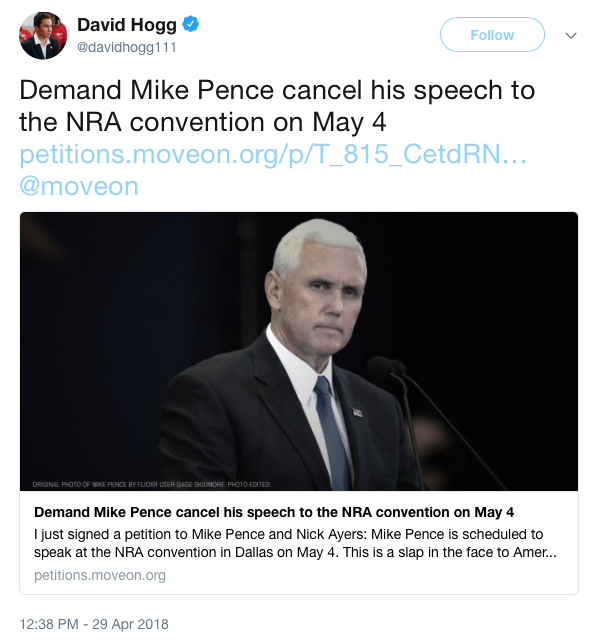 Hogg constantly tells people that his activism isn't about being Republican or Democrat. But, every time we hear him speak it's as if he was being paid by the DNC or all-around human waste of space, George Soros — which wouldn't be a surprise considering Soros does have past links to MoveOn.org.
The petition itself is laughable and screams of the emotionally wounded SJWs that typically get butthurt over these types of things.
"This is a slap in the face to Americans — from Parkland to Chicago to Nashville — hurting from gun violence," the petition reads. "It's also a signal to young people organizing historic actions that the NRA's extremist agenda and donations are more valuable to Mike Pence than the lives lost."
Really? Did Pence tell you that himself? Just as its your right to write a dumbass petition in an attempt to bastardize the First and Second Amendments, it Pence's right to be able to speak freely at an event of his choosing.
Is anyone going to be shot at this event? Most likely not. Is anyone going to get up on stage and tell people to shoot children? Nope. Is anyone going to lose an ounce of sleep, because some a group of morons doesn't like when people say things that they don't say. Hell no!
So what's the problem, Mr. Hogg? He's more than within his rights to believe in what he believes in. I would never pretend to take that away from him. But, he's just making himself look even dumber than he's already made himself look.
(Image in Hogg tweet: Gage Skidmore/Flickr)