In order to celebrate St. Patrick's Day, the party-poopers at the Anti-Defamation League have graciously reminded us all that the Celtic cross, a common icon of Irish heritage, is actually a modern symbol of hate that's somehow tied to Republican presidential candidate Donald Trump.
In a tweet on Thursday morning, the ADL quoted itself from a Gawker story, calling the Celtic cross one of the "most 'commonly used white supremacist symbols.'"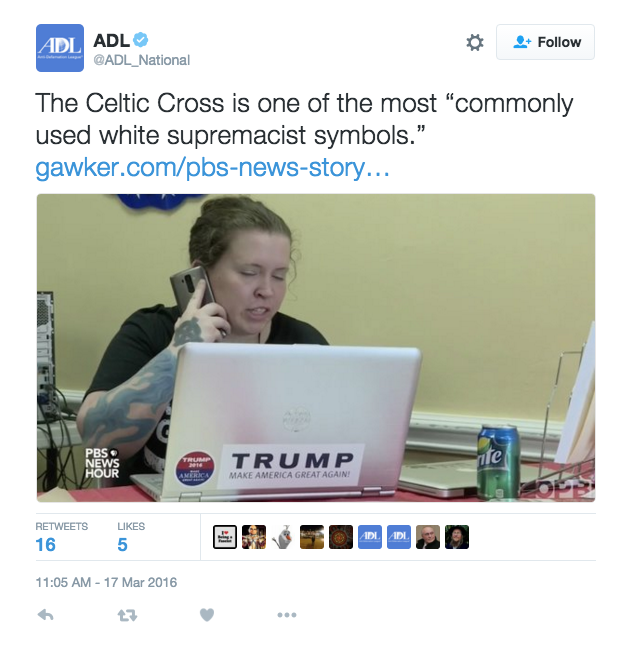 In the tweet, the ADL included a photo of a woman sporting a Celtic cross tattoo and stickers supporting Trump prominently plastered on her laptop.
The linked Gawker article (which includes the photo from the ADL's tweet) attempts to connect individuals who wear the Celtic cross to white supremacy and Trump because of one particular woman featured in a video.
On the nature of the Celtic cross, the ADL's Mark Pitcavage notes, "The Celtic Cross is an ancient and revered Christian symbol typically not associated with extremism at all."
"However, one particular version of the Celtic Cross—a squarish cross with a thick circle intersecting with it (also known as Odin's Cross), has become one of the most popular white supremacist symbols around."
So, while by the ADL's own admission the Celtic cross does not necessarily mean hate, the ADL would still like any of you planning to celebrate St. Patrick's Day that the symbol is "commonly used" for hateful purposes.