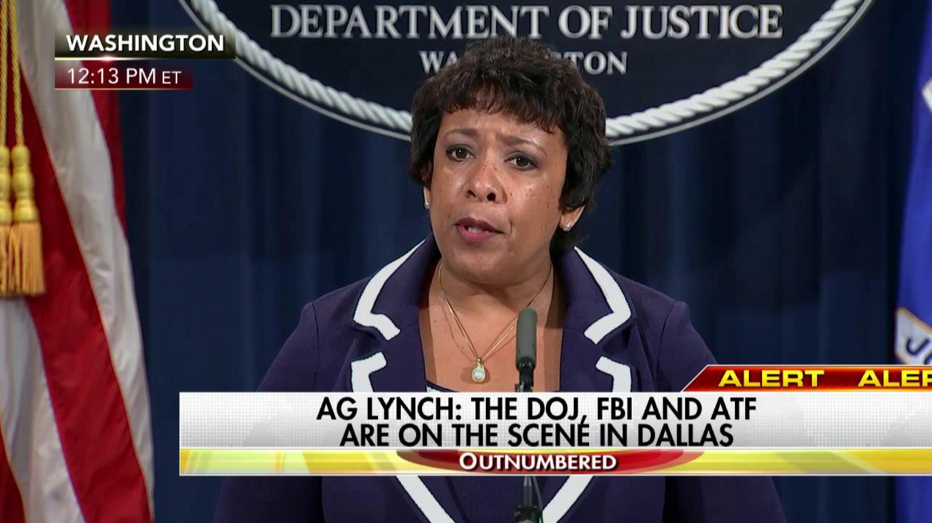 (Image via Twitter)
Attorney General Loretta Lynch held a press conference on Friday to address the deadly police ambush in Dallas.
She described this week as one of "profound and heartbreaking loss" given the recent shooting deaths of Alton Sterling in Louisiana and Philando Castile in Minnesota by police.
Lynch held that while Americans' frustrations are "understandable," "the answer is never violence."  
"Now after the events of this week, Americans across our country are feeling a sense of helpless, of uncertainty and of fear," she said. "These feelings are understandable and they are justified, but the answer must not be violence. The answer is never violence. Rather the answer, our answer, all our answer, must be action – calm, peaceful, collaborative, and determined action."
"We must continue working to build trust between communities and law enforcement," she went on. "We must continue working to guarantee every person in this country equal justice under the law. And we must take a hard look at the ease with which wrongdoers can get their hands on deadly weapons and the frequency at which they use them."
The Attorney General implored Americans, "Do not let the events of this week precipitate a new normal in this country."
She added that she feels "deeply grateful for the difficult and dangerous work" carried out by law enforcement everyday to keep citizens safe, and that the Department of Justice will do "all that we can to support you in the days ahead." 
The DOJ will be providing additional information regarding the Dallas shootings "when it is available and appropriate" as "this is an unfolding situation," Lynch told reporters.
The DOJ opened a civil rights investigation into the fatal shooting of Alton Sterling in Louisiana and is providing assistance to state authorities in Minnesota who are leading the investigation into the death of Philando Castile.