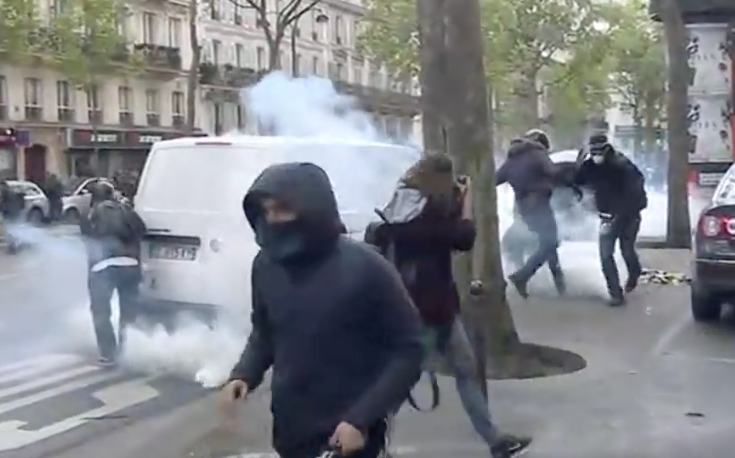 (Image: Screenshot/YouTube)
While I understand and accept the rights of people to peacefully assemble and protest, the word "peacefully" has left the lexicon of protesting.
Hundreds of student protesters and anarchists occupied the streets of Paris Thursday morning in order to whine and cry and break things all in the name of "tolerance."
The protesters assembled to vocalize and demonstrate their disgust with, what reports are saying, both candidates in the upcoming final round of the French presidential election.
Protesters, some of them masked, held up signs that translated to "Neither Marine [Le Pen], nor [Emmanuel] Macron."
Police attempted different tactics, at one point having to resort to using tear gas, in order to disperse the crowds, and for good reason, too.
According to the Gateway Pundit:
Masked individuals could be seen upending glass recycling banks to obtain projectiles with which to throw at police. Anarchist and 'no nations, no borders' slogans could be heard from certain amongst the protestors as banks and businesses along the route were vandalized with hammers and other weapons by opportunists within the protest.
"No nations, no borders." Ugh.
Is anyone else tired of these "masked individuals?" If these fake tough guys believe that their message and movement is so righteous, then why do they hide their faces? It's not like they're trying out for Saudi Arabia's next top model. 
Statements like this from protesters only further show the globalist, Socialist vision of utopia that they want for the world.
A world without borders is a world on fire.
For video of the unrest, watch below: