Freshman Democratic Rep. Alexandria Ocasio-Cortez is under fire after it was revealed that her boyfriend had been given a congressional email account and was listed as "Staff" in the U.S. House of Representatives.
Ocasio-Cortez after a screenshot of the email had been posted onto Twitter defended herself, saying that her boyfriend, Riley Roberts, had only been given a congressional email account so he could access her Google calendar.
"Next time check your facts before you tweet nonsense," she fired.  
In the system, Roberts is listed as "Staff" in the U.S. House of Representatives, so it only makes sense that the person who tweeted the screenshot would think he was "on staff."
Check out their Twitter exchange here: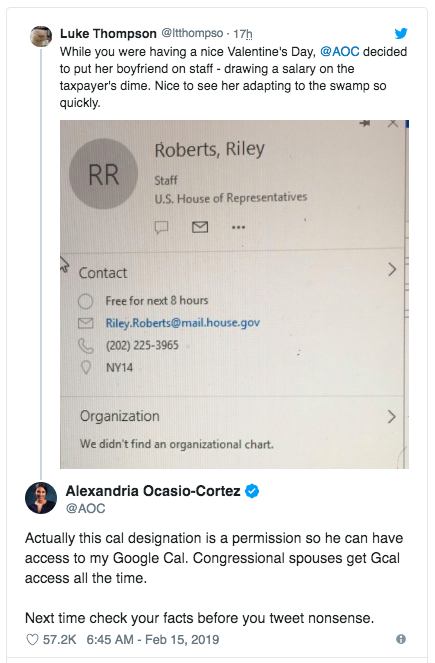 Twitter sounded off on Ocasio-Cortez, saying that, 1. her boyfriend is not her spouse, and, 2. she's being a hypocrite. 
Now, apparently, it is not unheard of for spouses or partners to be provided congressional email accounts to access a Congressperson's calendar, according to David O'Boyle, the spokesperson for the Office of the Chief Administrative Officer, who told Fox News that this happens "from time to time."
But the incident has raised ethical questions.
Fox News reports,
House IT rules generally prohibit the use of 'the House's electronic mail systems and resources' by unauthorized members, and only 'U.S. House of Representative Members, Officers, Employees, Fellows, Interns and Contractors' with appropriate permission can use the system. Still, O'Boyle cited the practice of sometimes allowing spouses access.

[Former chairman of the House Oversight Committee and Fox News contributor Jason] Chaffetz said that Roberts having email access could also create other security issues and the matter should be referred to the Capitol Police for further investigation.
Ocasio-Cortez does not need more problems, after being the scourge of New York for driving Amazon away from the state in its headquarters deal. There's no telling whether an actual Capitol Police investigation will be launched.