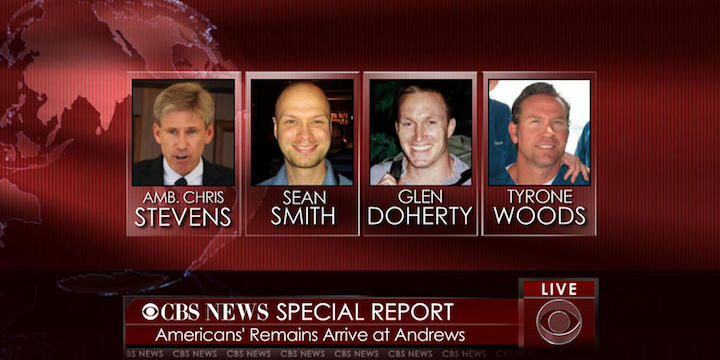 Ever since the 9/11/12 attack on the U.S. Mission in Benghazi, people have asked why a military team wasn't sent to rescue the Americans. The answer has always been that it was impossible to get a team to Benghazi in time to make a difference. Emails released today by Judicial Watch cast grave doubts about that explanation. 
The correspondence was from then-Department of Defense Chief of Staff Jeremy Bash and sent to State Department leadership.
The email immediately offered "forces that could move to Benghazi during the terrorist attack on the U.S. Special Mission Compound in Benghazi, Libya on September 11, 2012.  In an email sent to top Department of State officials, at 7:19 p.m. ET, only hours after the attack had begun, Bash says, "we have identified the forces that could move to Benghazi. They are spinning up as we speak."
Note that 7:19 PM Eastern time was September 12 at 1:19 AM Benghazi time.  According to published timelines, at least two of the eventual four killed were still alive.  The two, Glen Doherty and Tyrone Woods, weren't killed until two hours and forty minutes later at approximately 4 AM Benghazi time.
In providing the emails, the Obama administration redacted the details of of the available military team, citing a Freedom of Information Act (FOIA) exemption that allows the withholding of "deliberative process" information (the FOIA equivalent of executive privilege).
The email from Department of Defense Chief of Staff Jeremy Bash (embedded below) reads:
From: Bash, Jeremy CIV SD [REDACTED]
Sent: Tuesday, September 11, 2012 7:19 PM
To: Sullivan, Jacob J; Sherman, Wendy R; Nides, Thomas R
Cc: Miller, James HON OSD POLICY; Wienefeld, James A ADM JSC VCJCS; Kelly, John LtGen SD; martin, dempsey [REDACTED]
Subject: Libya

State colleagues:

I just tried you on the phone but you were all in with S [apparent reference to then-Secretary of State Hillary Clinton].

After consulting with General Dempsey, General Ham and the Joint Staff, we have identified the forces that could move to Benghazi. They are spinning up as we speak. They include a [REDACTED].

Assuming Principals agree to deploy these elements, we will ask State to procure the approval from host nation. Please advise how you wish to convey that approval to us [REDACTED].

Jeremy
Jacob Sullivan was Deputy Chief of Staff to Secretary of State Hillary Clinton at the time of the terrorist attack at Benghazi. Wendy Sherman was Under Secretary of State for Political Affairs, the fourth-ranking official in the U.S. Department of State. Thomas Nides was the Deputy Secretary of State for Management and Resources.
During his 2013 testimony to Congress, former Deputy Chief of Mission in Tripoli Gregory Hicks stated his belief that any show of force by the U.S. military during the attack could have prevented much of the bloodbath.
"If we had been able to scramble a fighter or aircraft or two over Benghazi as quickly as possible after the attack commenced, I believe there would not have been a mortar attack on the annex in the morning because I believe the Libyans would have split. They would have been scared to death that we would have gotten a laser on them and killed them."
But, as reported by ABC News in February 2013, former Defense Secretary Leon Panetta told the Senate Arms Services Committee:
"Time, distance the lack of an adequate warning" were some of the factors that prevented the U.S. military from reaching the U.S. Consulate in Benghazi, Libya, before four Americans, including U.S. Ambassador Christopher Stevens, had been killed in the Sept. 11, 2012.
The question about Panetta's testimony has always been: since no one knew when the attack would end, how did he know that night that the four Americans couldn't be rescued? This new email secured by Judicial Watch seems to indicate that our military had a team ready to at least try.