As part of the infrastructure bill, the Biden administration agreed to produce a report on the number of jobs lost by canceling the Keystone XL pipeline, along with additional information on how it impacted energy costs.
The report was due on February 13th.  It hasn't arrived.
A group of GOP senators have written Energy Secretary Jennifer Granholm inquiring about why the Biden administration believes it can break its legal obligations.
"At the time of its closure, the Keystone XL Pipeline project was already under construction and employed more than 1,500 workers. By the end of 2021, the Keystone XL pipeline was projected to provide approximately 11,000 jobs. The closure erased thousands of real, high-paying jobs and approximately $800 million in wages. Significant prospective spending for rural communities and small businesses, as well as tax revenue for local schools and public safety, disappeared with the stroke of a pen," the letter says.
"President Biden's Executive Order destroyed numerous jobs and changed countless lives. It also strained relationships with Canada and put the United States at a strategic disadvantage when it comes to energy security for us and our allies. Knowing the full impact of the President's actions is important to the American people.
We urge you to complete your obligation under the law and release your report to Congress immediately. We look forward to a prompt and detailed response."
The Biden administration may be hesitant to publicly release details of the decisions impact. With gas prices continuing to rise and increased tensions between Russia and the U.S. over the Ukraine, many predict that the cost of gas will spike even higher than it is now.
Related: Offensive: Benevolent Dems Offer 'Holiday' From Gas Tax They Usually Say Is So Important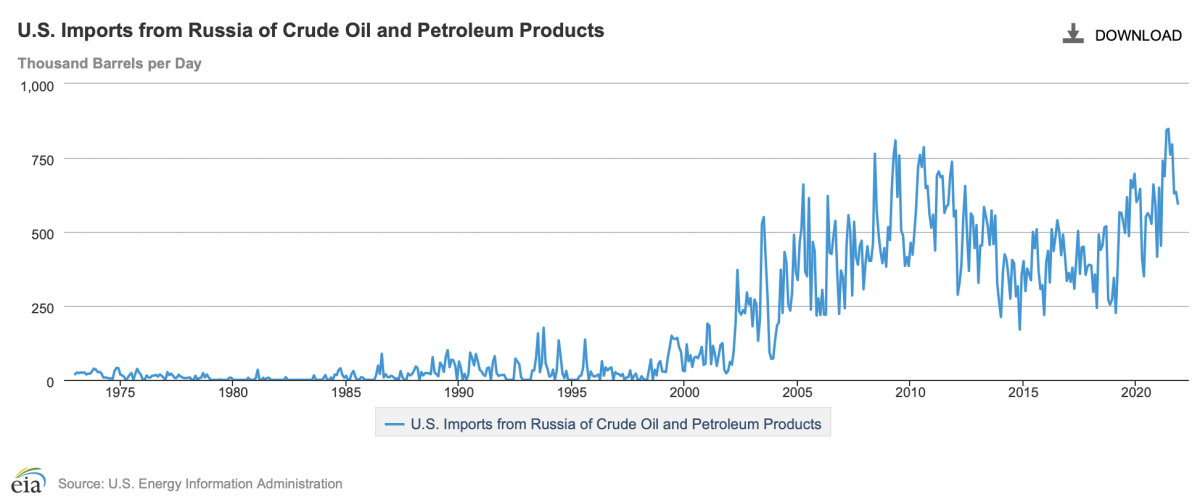 The U.S. currently imports over 500-thousand gallons of Russian oil per day according to the U.S. Energy Information Administration. If that supply drops as sanctions from the U.S. are imposed, gas prices will climb even higher.
Donald Trump released a statement on the situation on Tuesday:
Russia has become very, very rich during the Biden Administration, with oil prices doubling and soon to be tripling and quadrupling. The weak sanctions are insignificant relative to taking over a country and a massive piece of strategically located land. Now it has begun, oil prices are going higher and higher, and Putin is not only getting what he always wanted, but getting, because of the oil and gas surge, richer and richer. The U.S. was energy independent under the Trump Administration, an independence that we had never obtained before, and oil prices would have remained low.
Will gas prices go back down under the Biden Administration? pic.twitter.com/S3qufrlfdD

— MRCTV (@mrctv) November 7, 2021