President Joe Biden's speech on Thursday night gave off serious fürer vibes...and the internet was not OK.
For those who missed it - because let's be honest, maybe you were watching The Voice, or cleaning your fridge, or watching paint dry - Biden spent much of his speech blasting "MAGA Republicans" as dangerous criminals "
"MAGA forces are determined to take this country backwards, backwards to an America where there is no right to choose, no right to privacy, no right to contraception, no right to marry who you love. They promote authoritarian leaders, and they fan the flame of political violence that are a threat to our personal rights, to the pursuit of justice, to the rule of law, to the very soul of this country," he ranted.
"They look at the mob that stormed the United States Capitol on January 6th, brutally attacking law enforcement, not as insurrectionists who placed a dagger at the throat of our democracy, but they look at it as patriots and they see their MAGA failure to stop a peaceful transfer of power after the 2020 election as preparation for the 2022 and 2024 elections."
Related: Uncivil War? Biden's 'Soul of the Nation' Speech Targets 'MAGA Republicans' as 'Extremists,' 'Threat to This Country'
Uh-huh.
But regardless of his ridiculous verbiage, distracting from the diatribe was the backdrop of Biden's speech - an eerie red glow, punctuated by two silhouetted Marines standing at attention near the shadows.
I mean...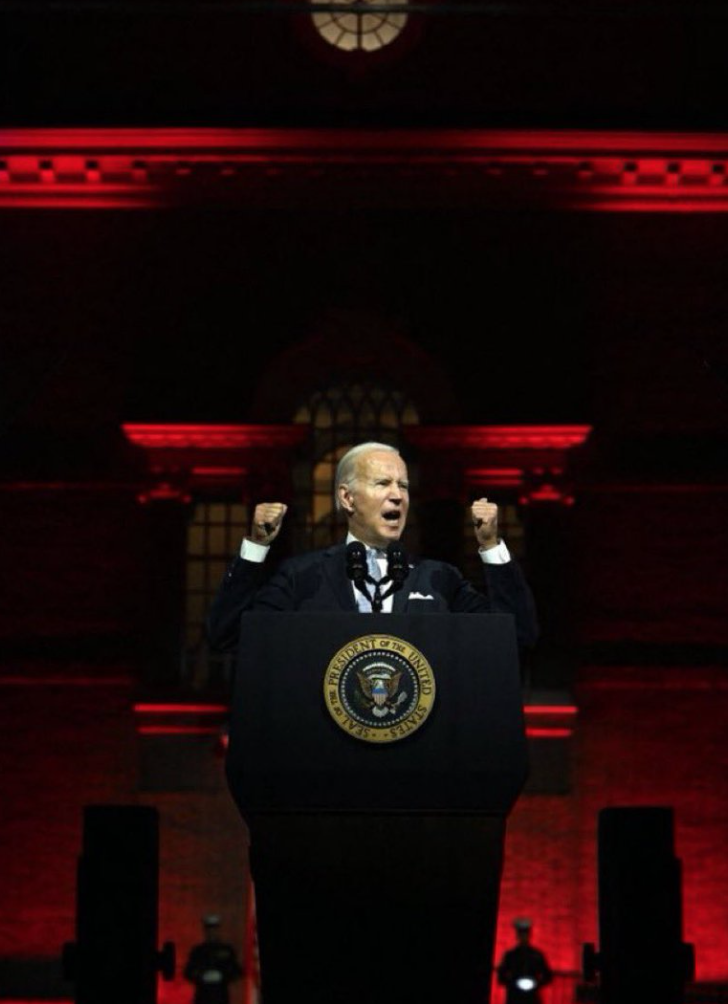 And the internet had thoughts.
"Das Republicans sind faschistisch!" pic.twitter.com/PJW76CA5Hh

— Brittany Hughes (@RealBrittHughes) September 2, 2022
My favorite moment from Joe Biden's speech tonight pic.twitter.com/GyWcXtnfld

— Benny Johnson (@bennyjohnson) September 2, 2022
Führer vibes intensifies… pic.twitter.com/d87EU81qWw

— David Bozell 🇺🇸 (@DavidBozell) September 2, 2022
So much unity. Wow. pic.twitter.com/ZU8gXbdEc9

— Breakfast Taco Rooster+🐓 (@GuatemalanGallo) September 2, 2022
Welcome to hell. Enjoy the ride. pic.twitter.com/NTW3MZtbmm

— Sara Gonzales (@SaraGonzalesTX) September 2, 2022
Everytime I think Biden and crew can't be dumber they outdo themselves. Seriously who gives a speech warning people about how dangerous Republicans are to Democracy while having a background that looks like the Soviet Union and Hitler had a baby? pic.twitter.com/sukqTswI3C

— Dave Portnoy (@stoolpresidente) September 2, 2022
A word to the wise: when you're trying to accuse the "other side" of being fascists?
Maybe don't, you know...look like a fascist.