Amid death threats against him and his family, Judge Brett Kavanaugh says that he plans to be on Capitol Hill first thing Monday morning to testify.
The Supreme Court nominee sent an email to the Senate Judiciary Committee on Thursday confirming that he will be at the hearing so that he can clear his name.
"Thank you for the invitation to appear before the Senate Committee on the Judiciary on Monday, September 24. I will be there," the email reads. "I look forward to the opportunity to testify before the Committee. I continue to want a hearing as soon as possible, so that I can clear my name."
Kavanaugh has denied the allegation made by his accuser, Christine Blasey Ford, who claims that he sexually assaulted her at a party when they were teenagers.
Ford does not plan to attend the hearing on Monday but is open to testifying next week "provided that we can agree on terms that are fair and which ensure her safety," as she has also been receiving death threats, her lawyer Debra Katz said in an email to the Senate Judiciary Committee on Thursday.
Katz said that a hearing on Monday "is not possible the Committee's insistence that it occur then is arbitrary in any event."
Based on tweets by Senate Judiciary Committee Republicans, it seems as though the date remains firm.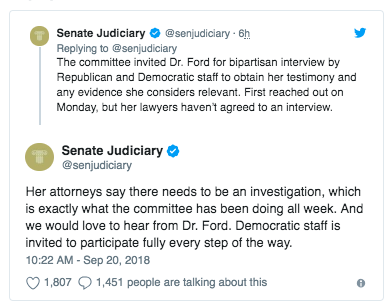 Senate Judiciary Committee Chairman Charles Grassley (R-Ia.) provided Ford several options for how to proceed Monday, including holding a private interview as opposed to a public hearing.
He rejected her request for the FBI to investigate her allegation against Kavanaugh as "the job of assessing and investigating a nominee's qualifications in order to decide whether to consent to the nomination is ours, and ours alone."
Ford's lawyer requested a call for later in the day Thursday with Chairman Grassley in which they can "discuss the conditions under which Dr. Christine Blasey Ford would be prepared to testify next week." Grassley's office plans to speak with Ford's lawyers to work out the details for the hearing, an aide told ABC News.