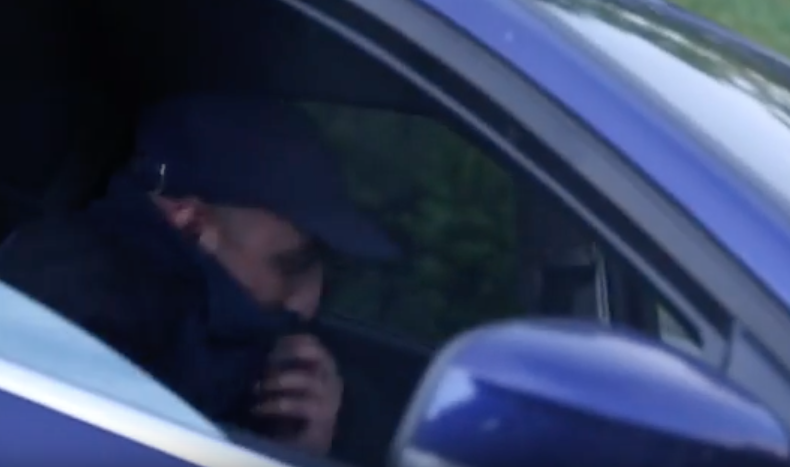 (Image: Screenshot/YouTube/Rebel Media)
Faux tolerance reared its ugly head yet again in Europe.
Tommy Robinson, Rebel Media's resident exposer of the side of Islam the rest of the media doesn't want you to see, released a new video explaining what happened to him when he attempted to confront a Muslim pedophile apologist.
That apologist, Labour Party Councillor Aftab Hussain, just happens to be a politician.
Robinson explained that he was trying to confront Hussain in order to request his resignation as a politician.
Here is Robinson's reasoning for the request:
Councillor Hussain went to court to defend and give a character reference for one of those men who is now convicted and in prison as part of a gang who raped 98 young English kids[…]Out of respect to the victims, he [Hussain] has to resign. He cannot be involved in British politics.
The only problem was that he was not allowed to confront Hussain.
Robinson claims, and captured on camera, that four cars helmed by Muslim men blocked Robinson and his colleague, Caolan Robertson, from getting closer to Hussain.
At one point, one of the men blocking Robinson threw an object at the back window of Robinson's car, shattering the window. The men also appear to have sideswiped Robinson's vehicle and then pursued him when Robinson attempted to get away.
Of course, most of the men harassing and assaulting Robinson and Robertson were masked -- because, you know, bravery.
Robinson summed up his experience by saying the following:
This is the worrying thing for me. You have street level gangs, who are drug dealers and who are pimping and prostituting young English girls, and then you have Labour representatives going to court, the ex-mayor who is a Muslim went to court, to defend these gangs. And then we go up to question them as journalists, who comes out to attack us? All the gangs. All the street level gangs. So that cooperation between the political leaders and the Islamic community and the gangs is a big worry.
Not one to back down from a fight, Robinson called out Hussain personally on camera.
"Councillor Hussain, I'm going to find you," Robinson stated emphatically.
Someone needs to keep people accountable, since the politicians seem to be in on it. Rebel Media even started a petition for Hussain's resignation. Good on ya, Tommy!
For Robinson report of the altercation, watch below: