If anything can be said for certain about former President Donald Trump, it's that he rarely, if ever, minces his words. You always know where you stand with the man. And if nothing else, you'll at least know the truth about how he feels about…well, anyone.
Yet another example of that was given by the 45th president this past Saturday on his social media platform, Truth Social.
In the aftermath of Senate Minority Leader Mitch McConnell (R-Ky.) downplaying the GOP's chances in Senate races during the upcoming 2022 midterm elections, Trump took to his platform and fired back at the career politician.
"Why do Republicans Senators allow a broken down hack politician, Mitch McConnell, to openly disparage hard working Republican candidates for the United States Senate," Trump wrote. "This is such an affront to honor and to leadership. He should spend more time (and money!) Helping them get elected, and less time helping his crazy wife and family get rich on China!"
Related: WATCH: Trump Drained The Swamp - No More Bushes, Clintons, And Now...Cheneys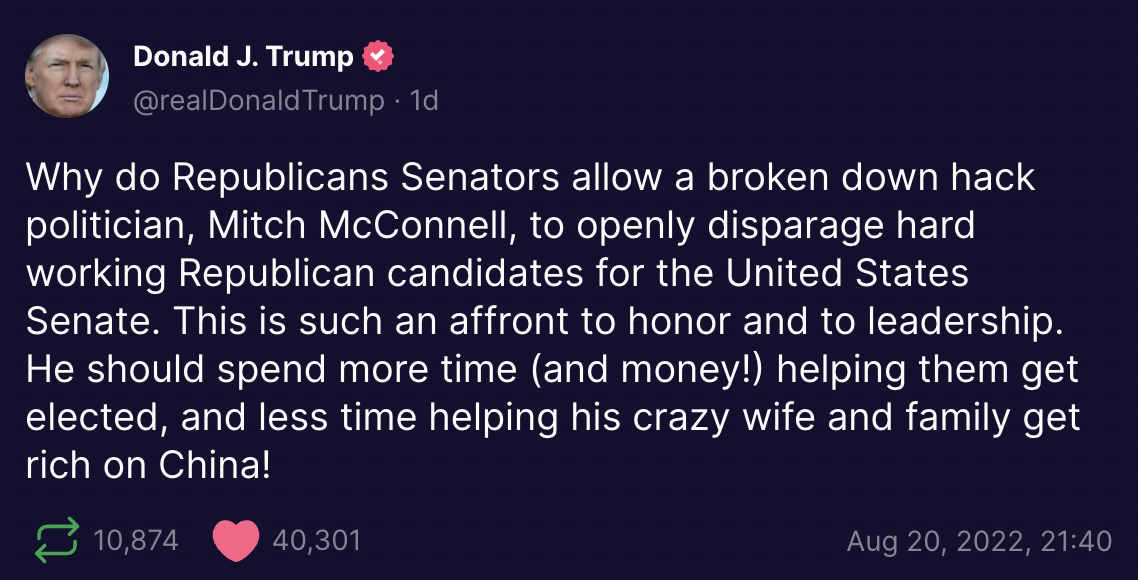 For context, McConnell had initially told the Northern Kentucky Chamber of Commerce, according to Fox News, that his confidence in Republicans flipping the House was higher than their chances of taking over the Senate in November.
"I think there's probably a greater likelihood the House flips than the Senate," McConnell said. "Senate races are just different, they're statewide. Candidate quality has a lot to do with the outcome.
H/T: New York Post
Follow Us On Twitter
.@JoeNBC has a Joe Biden moment before bringing on disgraced former FBI agent Peter Strzok to defend the FBI for raiding former President Trump's home. pic.twitter.com/Ee1PFOMgPE

— MRCTV (@mrctv) August 15, 2022