I didn't plan to vomit at my desk today, but when I went over to BuzzFeed News plans changed.
BuzzFeed News is notorious for pushing woke propaganda and the lunatics of the left. This week it also sought to push and promote sex-related stories for the whole internet to freshen up on during it's "Sex Week" campaign. 
BuzzFeed claims to present "news" that covers "what you care about." I can assure you that I didn't care to see any of these pieces on its site. 
BuzzFeed News' highlighted, front and center story, as of this writing, is about male sex dolls. Of course this grabbed my eye as I had two lifelike male (I think) dolls staring at me through my computer screen.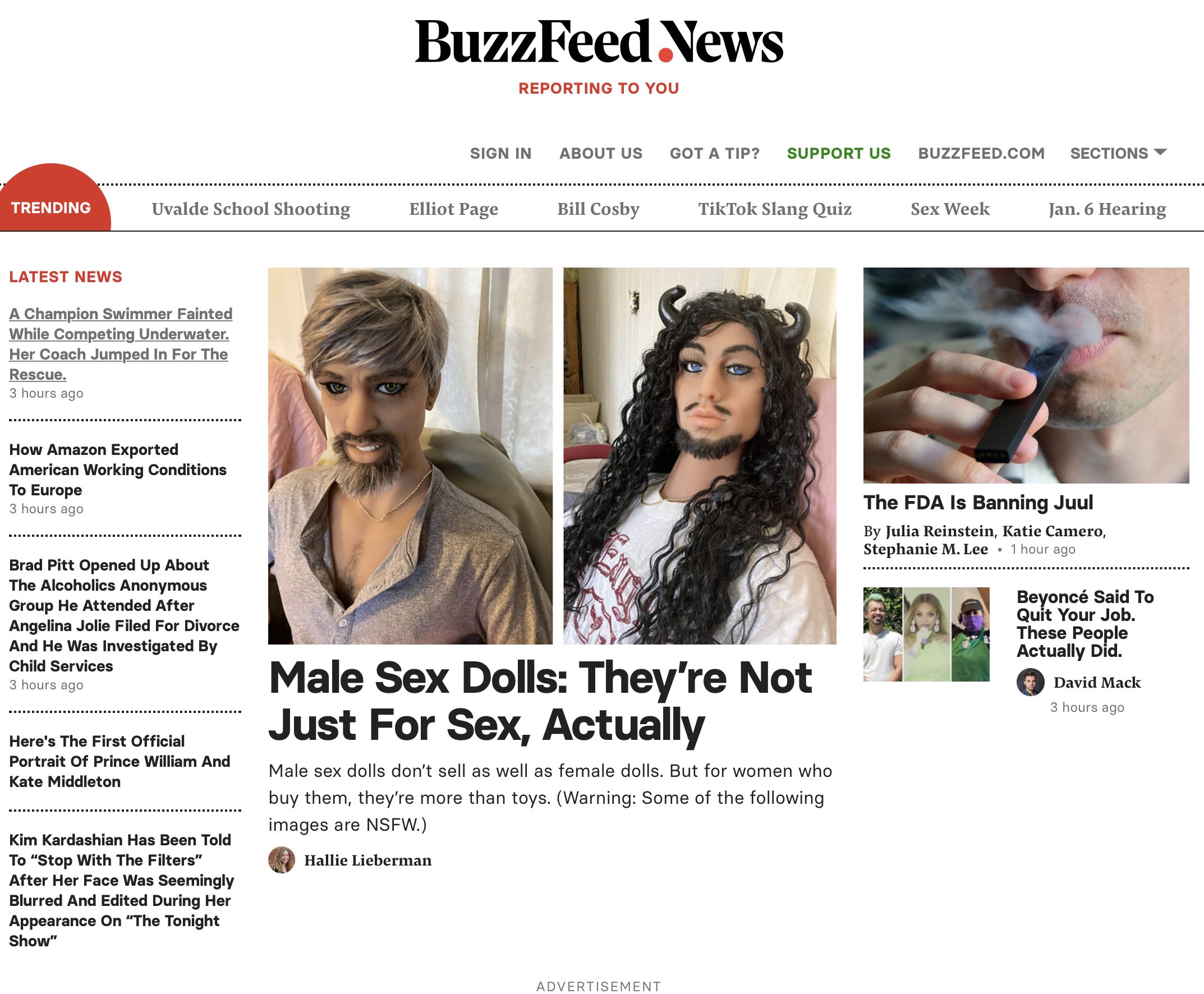 "Male Sex Dolls: They're Not Just For Sex, Actually" was written by BuzzFeed News contributor Hallie Liberman and published on Thursday. In the piece, Liberman highlighted how male sex toys are also companions to those using them. Liberman recounted one woman's story about how she "became smitten" with a sex doll when her husband became paralyzed. The article also provided extremely detailed photographs of sex toys and how they make people feel less alone.
Related: BuzzFeed: Pro-Lifers 'Misunderstand The Human Reproductive System'
BuzzFeed News also presented an article titled "People Who Take SSRIs For Depression Often Can Either Have Orgasms Or Mental Health, Not Both," by Loren Cecil. This piece went over possible negative effects of anti-depressants in relation to sexual intercourse and drive. While this may be a potential topic to discuss with one's doctor, last I checked, BuzzFeed News doesn't have medical authority over anyone and really should just stay in their own lane. 
On Wednesday, BuzzFeed News released a piece called "How Well Do You Know Sexy TikTok Slang?" by Katie Notopoulos. The article is actually a quiz where people can find out if they know what phrases, words and emojis that are commonly used on social media platform TikTok mean. TikTok bans specific language regarding sex, so apparently users have come up with their own slang to talk about it but not get banned. I took the quiz and got a score of 20 percent. That's one test I'm not ashamed to have failed.
The fourth highlighted article was posted by Anna Fitzpatrick on Tuesday. "Sex Parties Are Back — Unless You Aren't Into Men" is what she named it. This was when the vomit left my mouth. The author detailed what "kink parties" and "sex events" are and provided a plethora of woman-on-woman nearly nude photographs. 
Thanks for that.
The fifth on the list was also posted Tuesday and titled, "Why Is Genital Herpes Still So Stigmatized? Influencers Are Working Hard To Change That." The author, Katie Camero, talked about influencers who are trying to normalize having a sexually transmitted disease (STD). Ew. The author also encouraged people to talk about their genital herpes on social media. 
All of these articles are part of a larger series called "Sneaky Links: Stories About Sex — For Your Eyes (And Group Chat) Only." None of the articles provided graphic content warnings and honestly none of them are appropriate to be shared on what claims to be a "news" outlet.
Follow us on Twitter
Etsy and PayPal reportedly censored @SwipeWright, biologist and editor of @Quillette, for selling products that don't fit the lgbt+ agenda. pic.twitter.com/PqXaijerCV

— MRCTV (@mrctv) June 18, 2022