On Tuesday evening, BuzzFeed News released an "explosive" dossier filled with damaging accusations about President-elect Donald Trump's alleged "deep ties" to Russia. The problem is, however, even BuzzFeed admits the entire document they chose to publish is completely unverified and riddled with mistakes.
The piece, written by Ken Bensinger, Mark Schoofs, and Miriam Elder, claims the dossier — which they admit is completely unverified — alleges the Russian government has compromising information on Trump, and in response, the Russian government has been helping Trump.
Because we all know our blackmailers love to help us.
Instead of titling the piece, "Hey, The President-Elect Has Potentially Been Blackmailed by the Russians," BuzzFeed used their headline to assert the conspiracy theory that Trump is somehow controlled by the Russians by writing, "These Reports Allege Trump has Deep Ties to Russia."
Directly under the title, the authors cast doubt on all of the information they published. They write the dossier was compiled by an individual who only claims to be a former intelligence officer (without verifying his job) who alleges the Russians have compromising information on Trump (without verifying this information or whether the Russians even have any intelligence on Trump at all). They explicitly note, "The allegations are unverified, and the report contains errors."
Of course, real journalists generally verify their sources before publishing what they say, and don't intentionally publish "errors."
The authors go on to indicate again no one should believe a word of what they published, outright saying they haven't verified any of they information. They write, "BuzzFeed News reporters in the US and Europe have been investigating various alleged facts in the dossier but have not verified or falsified them."
To justify why they chose to publish unverified documents, BuzzFeed cited a CNN report that claims intelligence officers have been briefed on "claims of Russian efforts to compromise" Trump.
Instead of publishing their report under the guise of informing the public about the intelligence briefing CNN may potentially be referring to, BuzzFeed instructed readers to "make up their own minds about allegations about the president-elect" after reading the claims.
According to BuzzFeed, Americans should "make up their own minds" about the president-elect after reading claims the outlset repeatedly admitted are unverified.
After posting screencaps of claims from the unverified dossier, BuzzFeed's editor-in-chief Ben Smith published an email he sent to BuzzFeed staffers on releasing the dossier.
In his email, he wrote, "As we noted in our story, there is serious reason to doubt the allegations. We have been chasing specific claims in this document for weeks, and will continue to."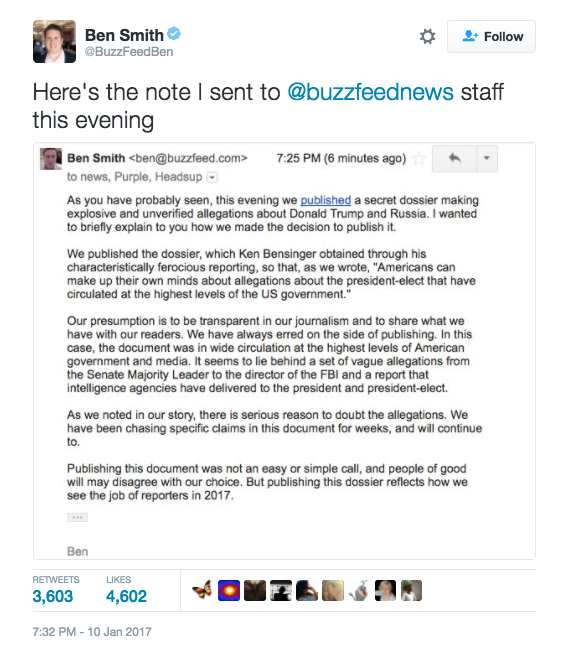 The editor-in-chief of BuzzFeed admitted his publication failed the basic journalistic task of verifying claims before publishing them.
Smith ended his email by saying that "publishing this dossier reflects how we see the job of reporters in 2017."
According to Smith, publishing unverified informed from unverified sources potentially is "the job of journalists in 2017."
After publishing the report by a source whose job they could not confirm and information they could not confirm, BuzzFeed solicited readers to send in their own anonymous and confidential tips related to the Trump story: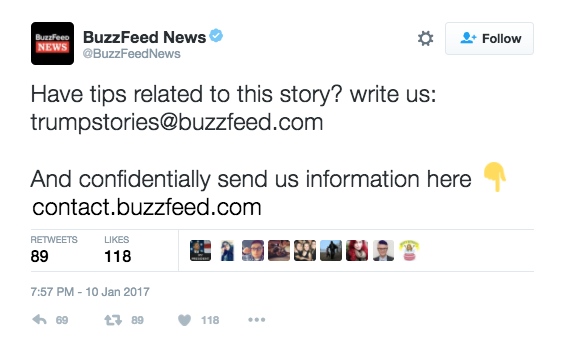 BuzzFeed also shared an older post about their confidential, anonymous tip line: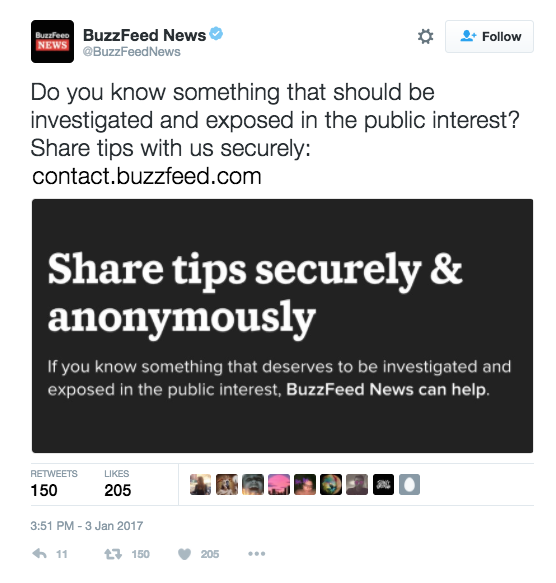 In the world according to BuzzFeed, journalists in 2017 should publish first, verify later, no matter how outlandish the tip — even if other journalists shied away from publishing it because they couldn't verify the story.
It should be noted that Smith recently said in an interview with Business Insider that "[f]ake news will become more sophisticated, and fake, ambiguous, and spun-up stories will spread widely" in 2017.
The man whose publication just published an entirely unverified dossier by a suspect unnamed source continued, "Hoaxes will have higher production value. It is, for instance, getting easier and easier to create video of someone saying something he or she never said — a tool both for fake news and false denials."