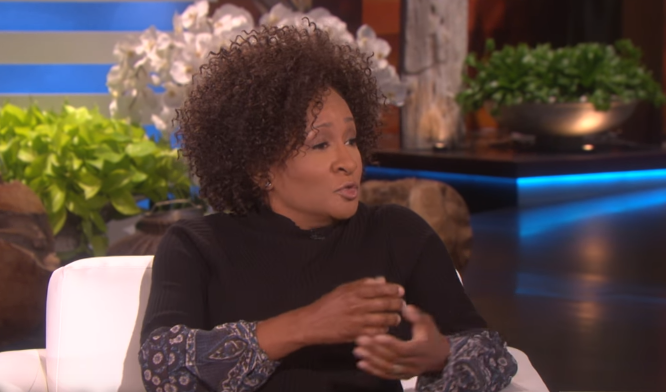 (Image: Screenshot/YouTube)
Comedienne Wanda Sykes made an attempt to stay relevant Saturday night in Boston. Sykes made her feelings known about president-elect Donald Trump, calling him a "racist."
The kicker? She did so at a charity event, and Sykes surprisingly got a fair amount of boos from the audience.
The event was in Massachusetts, however, which Trump did not win.
"I am certain this is not the first time we've elected a racist, sexist, homophobic president," Sykes said to the crowd. "He's just the first confirmed one, that's it."
A decent portion of the crowd loudly booed Sykes in essence telling her to check her snowflake privilege.
In her surprise to the crowd's reaction, Sykes responded, "F--k you, motherf---er, f--k all of y'all."
Sure, because that's how to win a crowd back to your favor.
Through her disbelief that people would dare boo her, Sykes posed questions with the preface, "How can you think he's not..." Enter racist, sexist, homophobic.
Sykes then began parading around the stage pointing out people in the audience and telling them, "F—k you!"
According to Fox News:
Before exiting the stage, the Boston Herald reports a woman came out and hugged Sykes while holding a peace sign which elicited cheers from the audience.
Not to be outdone the host of the Cam Neely Foundation for Cancer Cure's 22nd annual Comics Come Home fundraiser, actor/comedian Denis Leary took to the stage to guilt the audience into applause for Sykes by saying "f—k you" to someone in the crowd and explaining how Sykes flew all the way from Los Angeles to do the event.
Wow! Really? She had to endure the hardship of flying five hours to appear at an event for a worthwhile charity benefitting cancer? Just like having to go through cancer.
I know how difficult that flight must have been on her psyche, Denis. Maybe people just wanted to enjoy some comedy instead of having to continue to deal with election hangover.
For video of the incident, watch below (WARNING: strong language):