The "war on women" is a phrase ill-informed liberals came up with that — in reality — only applies to women that agree with their illogical viewpoints. However, if you're a woman that doesn't fall for their brainwashing tactics, you are not safe from receiving liberals wrath. They want equality for women — just not all women.
Case in point is liberal wackadoo comic artist Bill Siekiewicz who recently began releasing his "Most Punchable Faces of 2017" list. The target of Siekiewicz's animus was White House Press Secretary Sarah Huckabee Sanders. To be fair, Huckabee Sanders is the only woman on this list, but it begs the question, "Why would you advocate for punching any woman?" 
Here is the woman that Siekiewicz says deserves punching: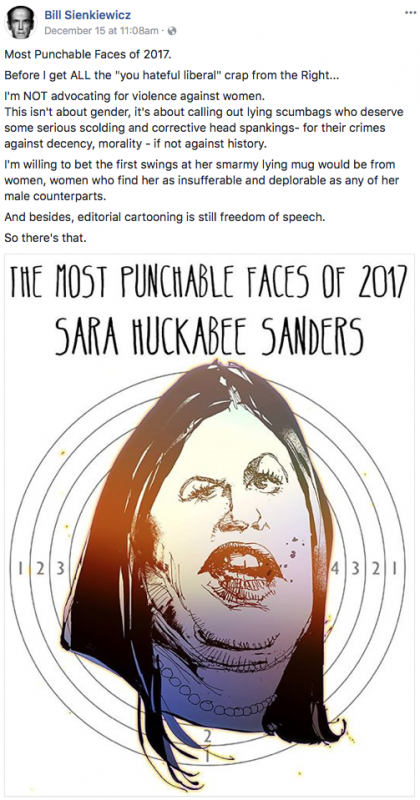 Siekiewicz, who is known for his art work with Marvel, DC Comics and the New Yorker, had a response for that very question in his Facebook post. Oh, and if you're going to be this public about wanting to punch someone in the face, at least spell their name correctly. Here, let me help. S-A-R-A-H. 
"I'm NOT advocating for violence against women," Siekiewicz wrote. "This isn't about gender, it's about calling out lying scumbags who deserve some serious scolding and corrective head spankings- for their crimes against decency, morality - if not against history."
It's pretty hilarious to note that while Siekiewicz says he's "NOT" advocating for violence against women in one sentence, he advocates for punching Sanders in the next sentence. Siekiewicz also said that he's "willing to bet" that women would most likely be the first in line to punch Sanders squarely in the face.
Why target Huckabee Sanders? She is merely an employee of the president who does the thankless job of putting forth Trump's views on issues to a media that -- for the most part -- despises her simply for working for Trump. 
Here are the others on Siekiewicz's "Most Punchable Faces" list:
Former White House Chief Strategist and Executive Chairman of Breitbart News Steve Bannon
President Trump's Senior Advisor for Policy Stephen Miller
Fox News Host Sean Hannity
Former NBC "Today" Host Matt Lauer
Donald Trump Jr.
Eric Trump
Chairman of the FCC Ajit Pai
Senate Majority Leader Mitch McConnell (R-Ky.)
Former Hollywood producer Harvey Weinstein
Fox News Host Tucker Carlson
Roy Moore
The thing is, Siekiewicz decided to put all of these "punchable" people on a target board in his crosshairs, and liberals won't think twice about that type of image.
But, liberals were in an uproar back in 2011 when the New York Times editorial board falsely accused a political action committee (PAC) of former vice presidential nominee Sarah Palin of being the impetus for the shooting of then-House Rep. Gabrielle Giffords. The PAC published a graphic on Facebook of the "20 House Democrats from districts we (Republicans) carried in 2008 [who] voted for the health care bill [Obamacare]."
Here is the image: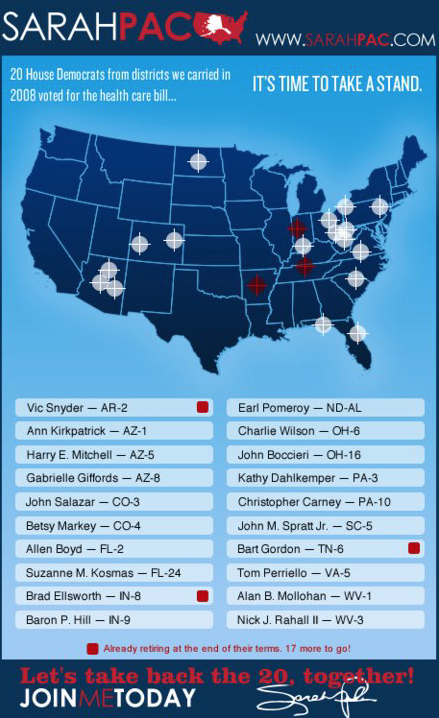 Wait a minute. How could they make that leap considering there were 19 other politicians in that graphic who — by the way — weren't the victim of a shooting? The Washington Post debunked the New York Times editorial board's old claim that the Palin PAC graphic had an connection to the shooting. The New York Times themselves debunked the claim back in June of this year. It only took six years to print a retraction, but it's a wonder that they did it at all.
This leaves us the question of "who pushes hate in the U.S.?" Or should the question be, "who DOESN'T push hate that has the platform to do so?"
The answer to the second question would probably be a shorter list.