During Yesterday evening's press conference in Dubuque, Iowa, presidential candidate Donald Trump had Univision anchor Jorge Ramos tossed out for abruptly interrupting a Q&A panel. 
Watch here how the confrontation went down: 
You can see from the start, it was clear that other journalists and media personnel were sitting with their hands raised like mature and civilized human being beings. 
This however, didn't stop Univison anchor Ramos from disrupting the panel by repeatedly shouting "You cannot deport 11 million people!" 
Trump is heard telling Ramos to "sit down" followed by "go back to Univison" which is the American Spanish language television network Trump is reportedly suing for $500M over breach of contract and defamation. 
After security escorted Ramos out of the press room, Trump in response to another question said he would "love to" have Ramos come back, but for him to understand he was rude and out of order.
Ramos was reportedly told he was welcome to return back five minutes later and told he would be called on to have his question answered. 
Nothing "full out racist" ever occured to the slightest degree.
But that didn't stop Complex.com freelance writer and smear merchant Debbie Encalada from attempting to stir up racial tension.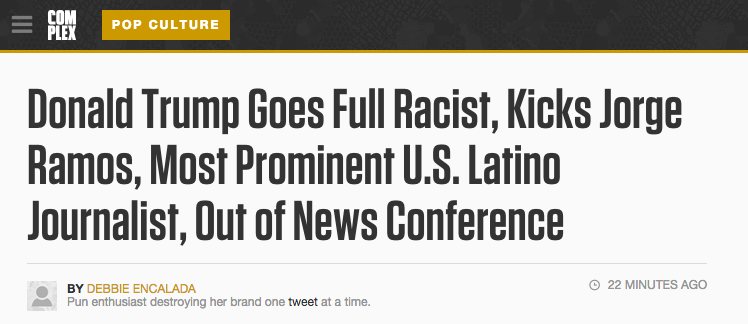 What's more unfortunate than this strive for more page views was Complex's readerbase response to the article. Here are snippets from their Facebook page and Twitter feed: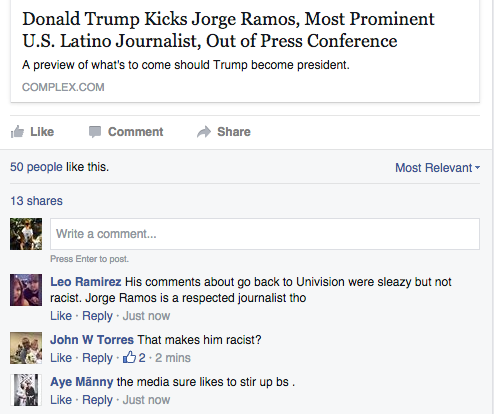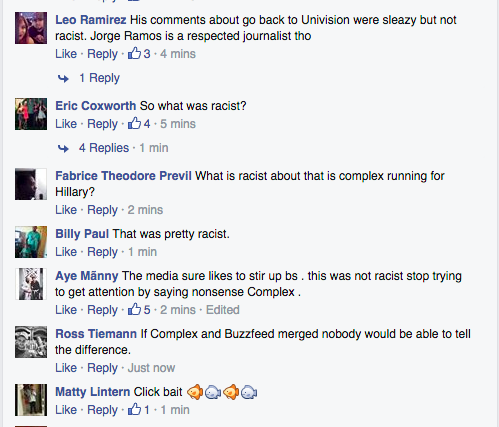 Here lies yet another case of the liberal media trying to dupe readers with dishonest race-baiting tactics. 
Fortunately for this faux claim of Trump being "full out racist", Complex News remains the needle in the haystack.