In August, the seasonally adjusted Consumer Price Index (CPI) for all urban consumers rose 0.6% from July, the U.S. Bureau of Labor Statistics (BLS) reported Wednesday.
The all-items index increased 3.7% for the 12 months ending August, up from the 3.2% year-over-year rise in July. Comparisons to year-ago had fallen for 12 consecutive months, before turning upward in July.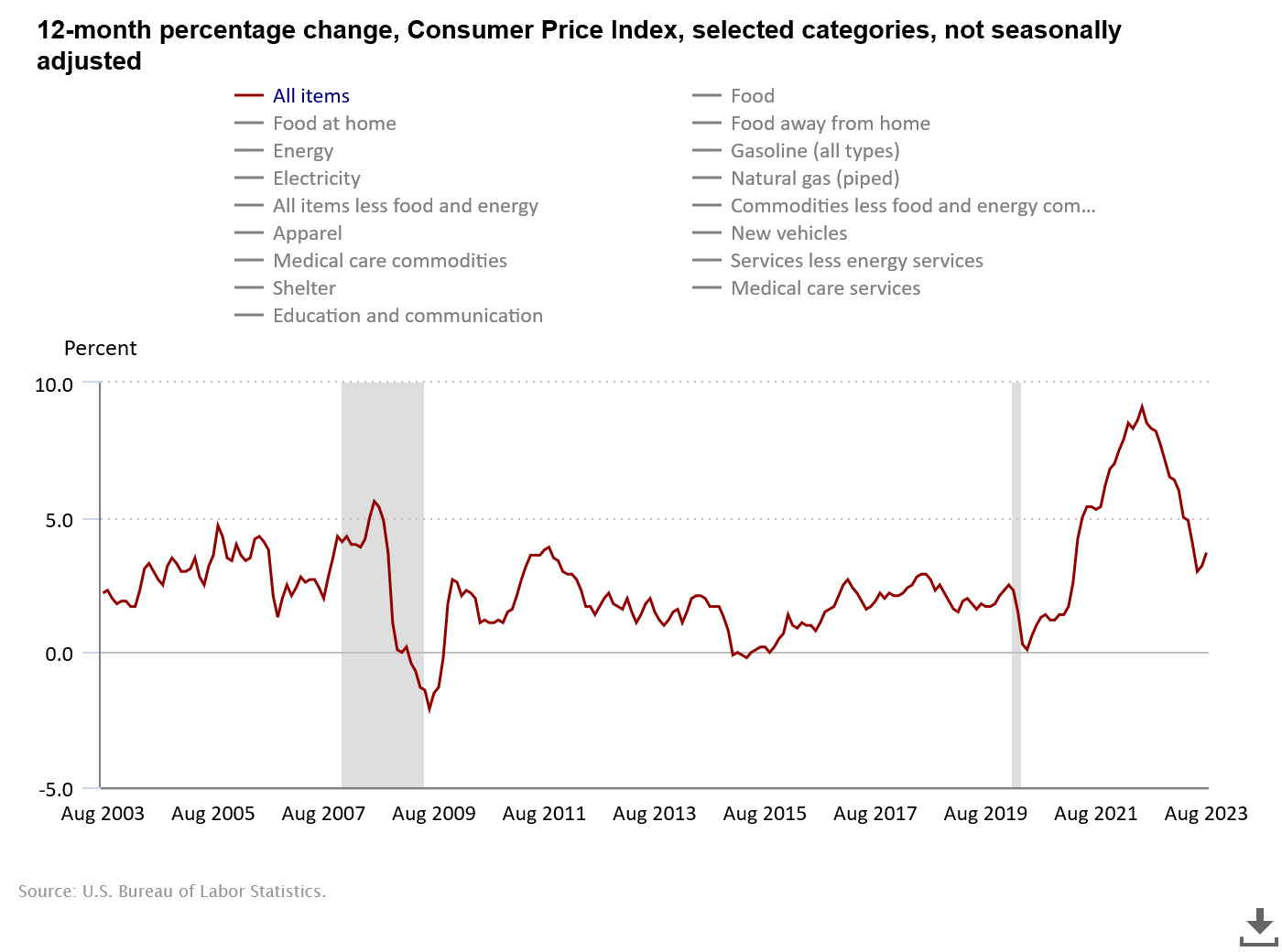 The "core" index, all items less food and energy, rose 4.3% over the last 12 months. The seasonally adjusted index for all items less food and energy rose 0.3% in August, ticking up from a 0.2% monthly increase in July.
The index for gasoline (up 10.6%) was the largest contributor to the rise in the monthly index for all-items, accounting for over half of the increase.
The energy index rose 5.6% in August, as all the major energy component indexes increased:
Energy Commodities: 10.5%

Gasoline (all types): 10.6%
Fuel Oil: 9.1%

Energy Services: 0.2%

Electricity: 0.2%
Utility (piped) gas service: 0.1%
The 0.3% rise in the cost of shelter – the 40th straight monthly increase - also contributed to the August monthly increase in prices.
Compared to August 2022, the price of shelter was up 7.3%, accounting for more than 70% of the total increase in all items, less food and energy. The shelter index was also the largest factor in the monthly increase in the index for all items less food and energy.
The food index increased 0.2% in August, matching its July increase. The index for food at home increased 0.2% over the month, while food away from home rose 0.3%.
The cost of motor vehicle insurance was up 19.1%, year-to-year, and 2.4% from July). The cost of new vehicles increased 2.9% from year-ago and 0.3% from July, while used car and truck prices fell 6.6% and 1.2%, respectively.
The business and economic reporting of CNSNews.com is funded in part with a gift made in memory of Dr. Keith C. Wold.