After declining in 2022, the U.S. budget deficit has surged higher in 2023, despite economic growth, troubling economists.
In the first ten months of fiscal year 2023, the United States borrowed $1.6 trillion, with a $228 billion deficit in July, according to the latest Monthly Budget Review from the Congressional Budget Office (CBO).
Over the past 12 months, ending in July:
As a share of the economy, deficits have totaled 8.6% of Gross Domestic Product (GDP), more than double the 50-year historical average of 3.6%.
The $2.3 trillion federal budget deficit was up 65% from the $1.4 trillion deficit in Fiscal Year (FY) 2022 and more than twice as large as the deficit prior to the beginning of the pandemic, according to the Congressional Budget Office (CBO).
Total spending was up 16% to $6.7 trillion.
Revenue was down 7% to $4.5 trillion. 
Revenue fell from a near-record 19.6% of GDP in FY 2022 to 16.9% of GDP over the past 12 months (August-July).
Spending totaled 25.5% of GDP over the past year, up from 23.5% in the previous 12-month period (August-July).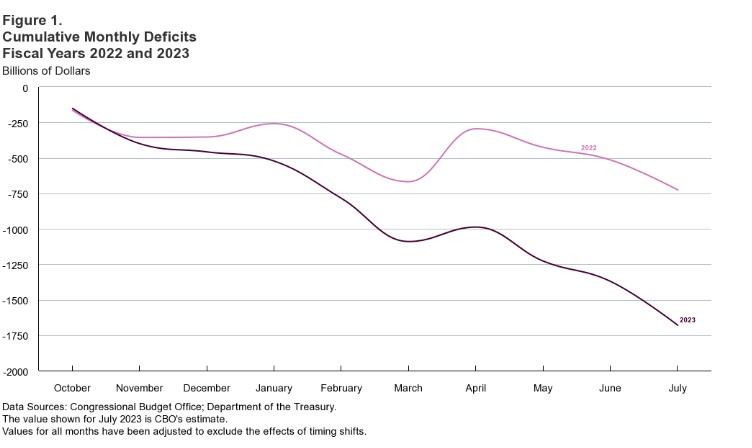 The deficit is surging higher, despite economic growth, Committee for a Responsible Federal Budget (CRFB) President Maya MacGuineas noted in a statement:
"With just two months left in the fiscal year, we've now borrowed $5.3 billion per day and have already surpassed all of last year's deficits.

"The deficit this year and next year are on track to be 50 percent larger than before the pandemic, despite the fact that the pandemic is over and the economy seems to be growing at a steady clip."
"To see this in an economy with low unemployment is truly stunning. There's never been anything like it," Jason Furman, who served as a top economist in the Obama administration and is now an economics professor at Harvard, observed:
"A good and strong economy, with no new emergency spending — and yet a deficit like this. The fact that it is so big in one year makes you think it must be some weird freakish thing going on."
In the past, such sharp increases in the deficit have occurred only during periods of "major crises" and national catastrophes, Furman said.
Increasing deficits have a ripple effect that harms average Americans, a Manhattan Institute economist tells The Washington Post in  "U.S. deficit explodes even as economy grows":
"Larger government deficits lead to higher interest rates, which can distort private investment and drive up the cost of loans, like home mortgages. Brian Riedl, an economist at the Manhattan Institute, a libertarian-leaning think tank, said the United States appears on track for annual deficits that could rise to close to $3 trillion by the early 2030s.

"'A debt growing much faster than the economy will drive up interest rates, reduce economic investment, and over time make interest payments the largest federal expenditure — risking a federal debt crisis,' Riedl said."
The business and economic reporting of CNSNews is funded in part with a gift made in memory of Dr. Keith C. Wold.