If you ask a Leftist — which is an ordeal in and of itself — the AR-15 rifle is the most evil contraption ever invented. The rhetoric of Leftists have even brought huge companies to their knees.
Dick's Sporting Goods announced that they will no longer be selling "assault-style weapons" and "high-capacity magazines," and anyone that buys the firearms Dick's continues to sell must be 21 years of age or older. 
But don't think for one minute that Dick's is making some grand statement with this decision. Dick's stopped selling these types of weapons in all their major stores after the Sandy Hook shooting. The corporation's latest decision only affects 35 Dick's locations nationwide.
Looks like someone's trying to score political points.
Here's a tweet from Dick's with the details of their announcement: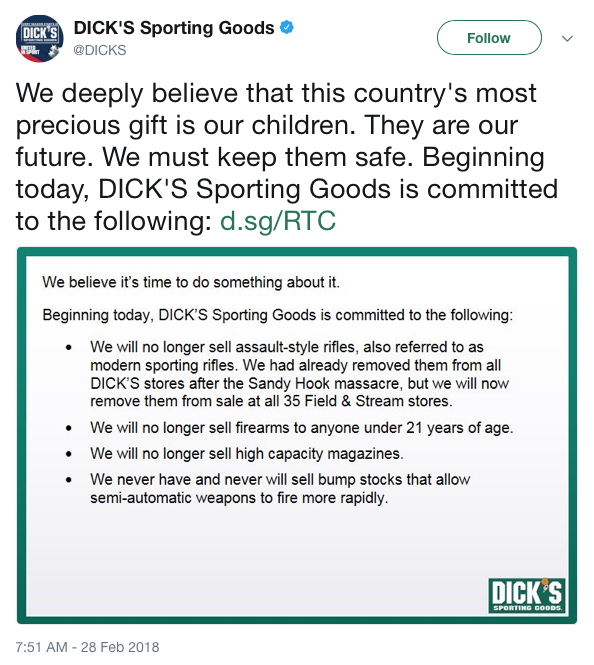 Dick's CEO Edward Stack said that he and other executives made the decision based on the bravery of the student activists following the Parkland, Fla. school shooting tragedy that left 17 people dead.
"As we sat and talked about it with our management team, it was -- to a person -- that this is what we need to do," Stack told CNN's Chris Cuomo. "Those kids talk about enough is enough. We concluded if these kids are brave enough to organize and do what they're doing, then we should be brave enough to take this stand."
Is it bravery to act like a cowering wimp in the face of pressure from people that don't know all that much about guns?
Stack even admitted that criticism — especially from customers that shop at Dick's for their hunting needs — is expected.
"The hunt business is an important part of the business, no doubt about it," Stack said. "And we know there will be some backlash."
There will most likely be "backlash," but not in the form that Stack thinks there will be. Don't be surprised if Dick's bottom line isn't as rosy as it typically is, because Stack and the rest of the stuffed suits at Dick's have just alienated a large portion of its customer base.
For video of Stack's interview, watch below:
H/T: WGN