Actor and "environmentalist" Leonardo DiCaprio was forced to respond on Saturday after Brazilian president Jair Bolsonaro accused the "Gangs of New York" actor of donating money to two questionable nonprofit groups in the wake of the supposed wildfires that ravaged the Amazon rainforest.
Bolsonaro apparently told his supporters on Friday that DiCaprio allegedly gave money to nonprofit organizations that the Brazilian president has accused of starting the Amazon fires in order to solicit donations from wealthy people like DiCaprio.
"DiCaprio is a cool guy, isn't he?" Bolsonaro said. "Giving money to set the Amazon on fire."
According to Fox News, DiCaprio's "environmental organization" donated $5 million following the fires that affected the Amazon in July and August.
Quartz reported on Sunday:
Earlier this week, police arrested four members of the Alter do Chгo fire brigade, whom they accused of setting some of the fires that ravaged parts of the northern Brazilian state of Parб in September. Critics said the move was politically motivated, and the BBC reports that a judge refused to let the men out on bail.

This week, Bolsonaro appeared to lend credence to rumors circulating on social media that the environmental NGO World Wildlife Fund (WWF) bought photos from the Alter do Chгo brigade to solicit donations from people like DiCaprio—an accusation that both DiCaprio and the WWF have denied.
Bolsonaro made other inflammatory comments during a Facebook Live video recently.
"The NGO people, what did they do? What's easier? Set fire to the bush," Bolsonaro said in the Facebook Live video. "Take photo, film, send it to an NGO, the NGO spreads it out, does a campaign against Brazil, gets in touch with Leonardo DiCaprio and Leonardo DiCaprio donates $500,000 to this NGO."
In response, DiCaprio posted a statement to his Instagram page decrying that the allegations against him are baseless, going so far as to directly say that his organization "did not fund the organizations targeted."
Here's the post with the statement: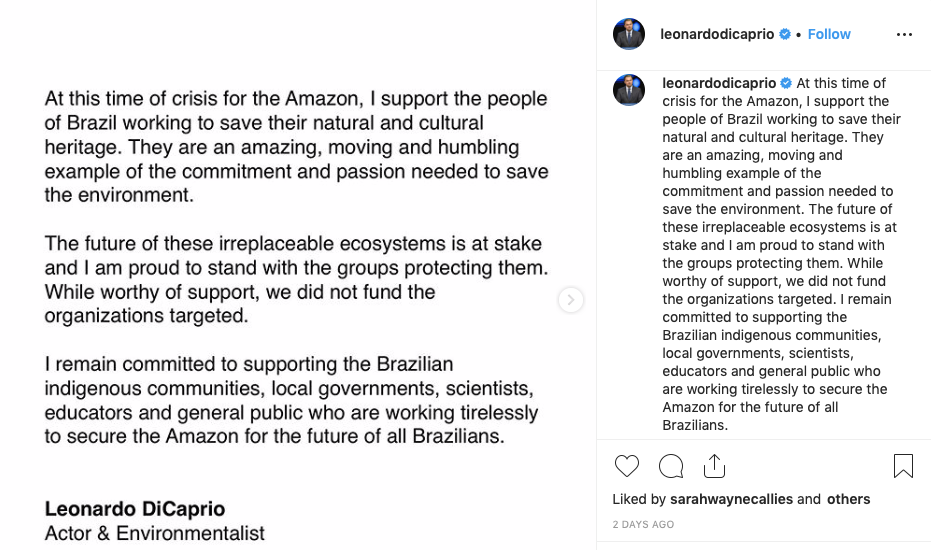 In August, nature.com reported that data from Brazil's National institute for Space Research (INPE) indicated that "more than 76,000 wildfires have burned in Brazil this year alone. That was in August, so Fox News reported that the number is now above 80,000 for 2019.