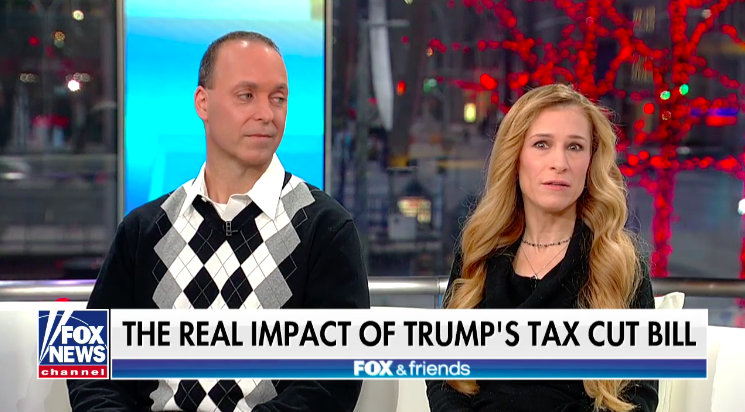 A working family from Connecticut slammed House Minority Leader Nancy Pelosi (D-Calif.) for characterizing bonuses given to American workers as a result of the GOP tax cuts as "crumbs."
"To Nancy Pelosi, my entire yearly income would probably be 'crumbs,'" Lee Duprey said in a Sunday interview on "Fox & Friends." He got a raise of nearly $50 per week thanks to the tax overhaul.
"Literally, every dollar helps. It makes a big difference," he said.
Lee explained that his family's finances were tight because they not only live in a high-tax state but they are also still paying medical bills for his recent cancer surgery.
His wife Shireleyann Duprey said she is grateful for any "crumbs." 
"I've always enjoyed any dollar amount increases," she said. "I said, 'Thanks, Trump, and thanks, Republicans. We'll take it."
Shireleyann, who is currently looking for work in office management, said she has seen a lot more opportunity after the tax bill was passed.  
"The week after he signed that, I got my first in-person interview. Two weeks ago, I got three in one week… And I've actually been able to apply to several jobs just this past week so there's been definitely more jobs available," she said.
The couple said they're using the money to save and pay down debt.
"It doesn't just affect us," said Shireleyann. "It makes it so we can help our children more and our grandchildren."  
Pelosi, ironically, is one of the wealthiest members of Congress. She has faced criticism from members of her own party for downplaying the benefits of tax reform for the average American.  
Even still, the House Minority Leader stands by her remark, saying the bonuses are just "one-time" events and again calling them "crumbs" compared to the benefits of the tax overhaul to the 1 percent.  
President Trump last week said that Pelosi's "crumbs" remark was the next "deplorable" slur.
(Cover Photo: Screenshot)
Thank you for supporting MRCTV! As a tax-deductible, charitable organization, we rely on the support of our readers to keep us running! Keep MRCTV going with your gift here!