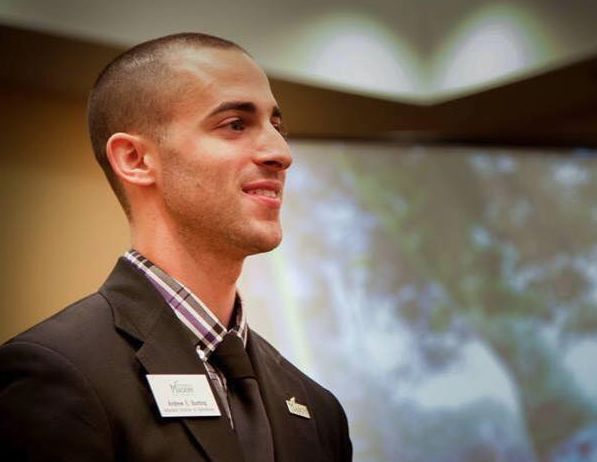 (Image source: Facebook)
While the president of George Mason University was busy issuing a statement upholding the school's commitment to diversity and inclusion, the senior admissions director at the public university made it clear he believes that, if you are a conservative, you are a "piece of worthless trash."
On his public Facebook page, GMU's Senior Assistant Director of Admissions Andrew Bunting claimed he is fearful of Donald Trump's presidency because the National Organization for Marriage (NOM), a group that believes in traditional marriage, said it is hopeful for Trump's presidency.
Bunting stated NOM's views are "not representative of the key pillars of American society." He then added, "If you agree with them then that is your opinion. Just know that to the rest of us, you are a piece of worthless trash":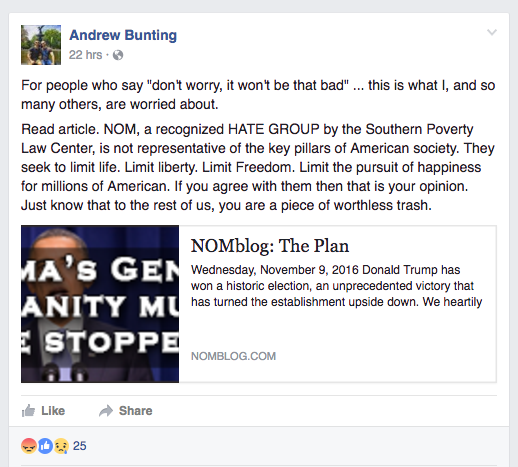 Bunting has made multiple comments on the presidential election on his Facebook page, including claiming Trump winning made him wake up in a "less safe world":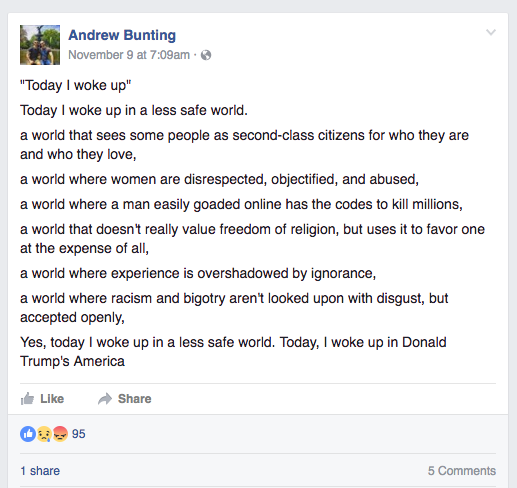 As an admissions counselor at GMU, Bunting claims he is in charge of making admissions decisions. He also publicly represents the university to prospective students, their families, and high school counselors. Bunting has also called for collecting data on sexuality for admissions.
Contrary to Bunting's remarks, GMU president Angel Cabrera's statement on the election claims everyone is welcome at Mason, including people who voted for Trump:
 Let me be clear:

If you are Muslim or Jewish or Christian, you belong at Mason.

If you grew up in Mexico City, Islamabad, or Roanoke, you belong at Mason.

If you are part of the LGBT community, you belong at Mason.

If you are Black or Brown or White, you belong at Mason.

If you voted for Clinton or for Trump or anyone else, you belong at Mason.
In addition to working at GMU, Bunting appears to work at a gay bar called Cobalt. Photos on his Instagram account show him dressed provocatively while saying he is at the bar every "4th and 5th Saturday."