People who are offended at pretty much anything don't take the time to examine a topic before sounding their triggered alarm. It's as if they're trying to win gold in the "Woke Olympics." It's funny that they think they're "woke" by being offended at things that don't warrant it, because one has to wonder whether they're conscious when getting outraged.
Case in point is the fury over "Guardians of the Galaxy" actor Chris Pratt's wearing of a totally non-racist t-shirt featuring a variation of the widely used Gadsden flag, which uses the motto, "Don't Tread On Me."
Hunter Harris, a writer for Vulture, tweeted out a picture of Pratt's shirt and a subsequent picture that focused in on the graphic of the Gadsden flag variation: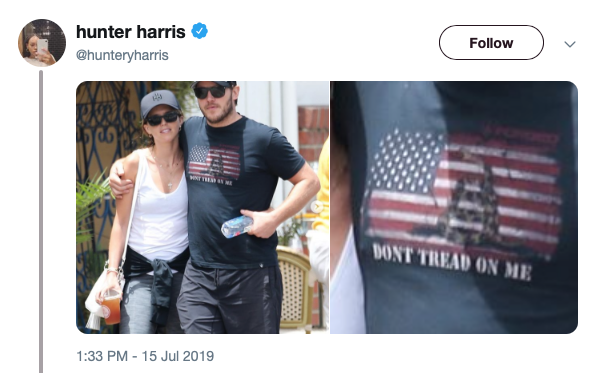 Yahoo Movies UK originally printed an article titled, "Chris Pratt criticized for 'white supremacist' T-shirt." Go figure - someone in the U.K. was offended by something completely benign.
However — one day later — Yahoo! did an update to the article and removed all "references to White Supremacism." Because of the original, irresponsibly chosen title to the Yahoo! article, some people took offense to the shirt Pratt was wearing.
Here are some examples.
(Note: It was actually pretty difficult to find people who didn't side with Pratt, making one wonder why Yahoo! wrote the article in the first place):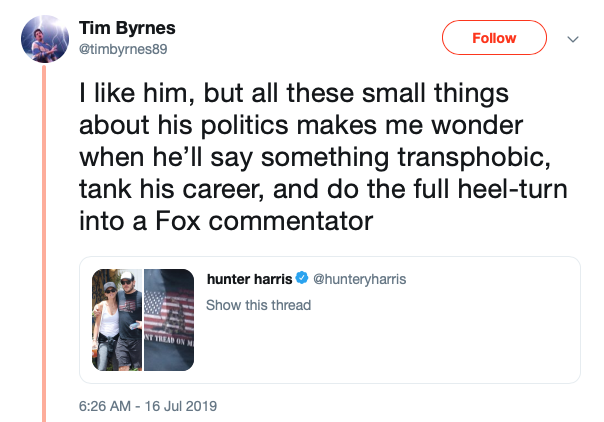 What the morons with the outrage police didn't understand while they foamed at the mouth to demand a pound of Pratt's flesh because of his "racist" and "white supremacist" shirt is the fact that Pratt's shirt was actually made by a company that donates a portion of each sale to "several military affiliated, non-profit 501(c)3 organizations to help wounded veterans and their families cope during times of recovery."
Forged Clothing posted a response to the outrage on Facebook, giving their support to both the Gadsden flag and Pratt.
"Chris Pratt is by far one of the most humble and selfless Americans we have ever known," Forged said in the Facebook post. "We will ALWAYS have his back."
Take a look at the full post below: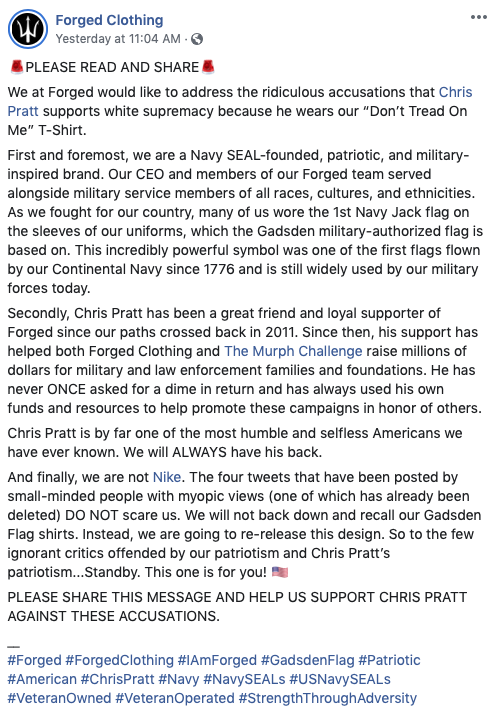 If only activists and the perpetually offended gave one second of thought before blindly throwing their "tolerant" hate towards people they don't know and inanimate objects, we might be able to avoid having to write about such non-sensical drama.