Far-Leftists love the absence of law and order. They love it so much so that they bask in the glow of their own agenda-driven narratives. Let's put it this way; if a business is in the wrong for not wanting to make a cake for a gay wedding, then it's also in the wrong if it denies service to members of law enforcement.
Activist Rocky Coronado owns the Rocky Road Brew food truck that she operates in Detroit. Coronado recently made the decision to "refuse service to cops," because she claims that the Detroit Police Department is the "only type [of customer] that has ever purposely intimidated me."
Coronado posted one of the most self-righteous and divisive letters I've ever seen on Facebook last Friday referencing her decision to discriminate against law enforcement.
In the post, Coronado bashed people who believe that 'all lives matter," "Patriots," supporters of President Trump — referred to as "MAGA" — and "Christians." Coronado described herself as a "brown queer person" who, simply by existing, "is a threat to Amerikkka." Yeah, she put three K's in America, just in case you weren't aware how racist the country whose system (capitalism) puts food on her table was.
Here's the post (Note her hashtags at the bottom):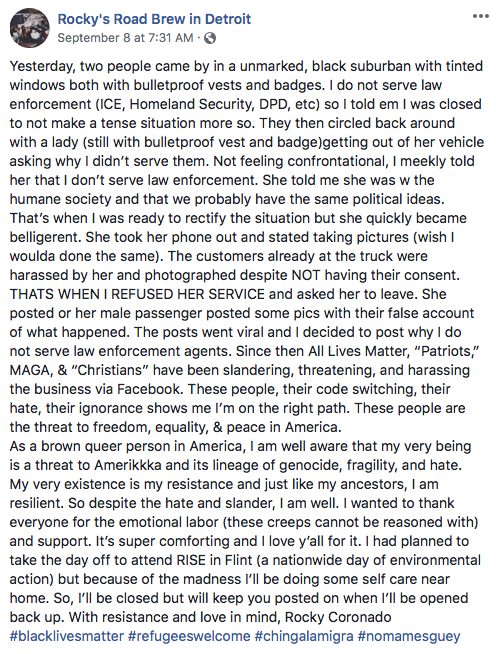 Nearby restaurant owner George Azar told Fox 2 - Detroit that he doesn't agree with Coronado's assessment that law enforcement pose a danger to customers.
"You know, here, Southwest [Detroit] should be a case study for how to police in this country," Azar said. "In a good way."
So what the heck is Coronado talking about? Does she have legitimate claims, or is she simply discriminating against law enforcement because of how "woke" she is?
Judging by her post, which was based solely on emotion rather than facts, I would tend to go with the latter.
For local coverage of this story, watch below: