The woman accusing Supreme Court nominee Brett Kavanaugh of sexually assaulting her when they were teenagers is now "prepared to testify," according to her lawyer.
Christine Blasey Ford, a university professor, previously pushed back against the Senate Judiciary Committee's invite to testify on Monday. One of her lawyers issued a statement on Wednesday calling the hearing unfair and requesting the FBI investigate Ford's claim against Kavanaugh before her testimony.
Now her lawyers say Ford "would be prepared to testify next week" – just not on Monday.
Ford's lawyer Debra Katz sent an email to the Senate Judiciary Committee on Thursday indicating that Ford "wishes to testify, provided that we can agree on terms that are fair and which ensure her safety."
"I would like to set up a call with you later today to discuss the conditions under which Dr. Christine Blasey Ford would be prepared to testify next week," the email reads, first obtained by The New York Times.
"As you are aware, [Ford] has been receiving death threats, which have been reported to the Federal Bureau of Investigation, and she and her family have been forced out of their home," Katz continues. "She wishes to testify, provided that we can agree on terms that are fair and ensure her safety."
Katz says that while Ford is "prepared to testify next week," Monday is out of the question.
"A hearing on Monday is not possible and the Committee's insistence that it occur then is arbitrary in any event," the email says.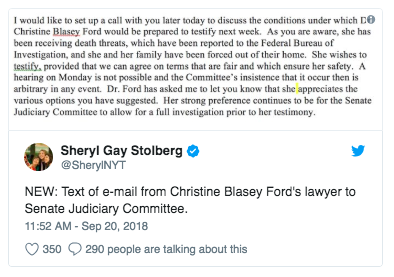 She also thanks Chairman of the Senate Judiciary Committee, Sen. Charles Grassley (R-Ia.), for "the various options you have suggested" to Ford for her testimony on Monday, including doing a closed-door, private interview, or even a phone call, as opposed to a public hearing.
Still, it is Ford's "strong preference" for the committee "to allow for a full investigation prior to her testimony." 
Sen. Grassley rejected her request for the FBI to investigate her allegations against Kavanaugh, as the committee has "no power to commandeer an Executive Branch agency into conducting our due diligence."
"The job of assessing and investigating a nominee's qualifications in order to decide whether to consent to the nomination is ours, and ours alone," he said in a statement sent to Ford on Wednesday.
In response to calls to postpone the Monday hearing, Sen. Grassley said Wednesday that he had offered Ford several options on how to proceed but held that "it would be a disservice to Dr. Ford, Judge Kavanaugh, this Committee, and the American people to delay this hearing any further."
Grassley's office plans to speak with Ford's lawyers to work out the details, an aide told ABC News.
It is unclear whether he will now postpone the hearing scheduled Monday.