Stephanie Ritter graduated from Florida State University in 2011 with a degree in theatre. She is hoping that her degree diploma is worth more than the actual college degree itself, which is why she is selling it for $50,000 on eBay.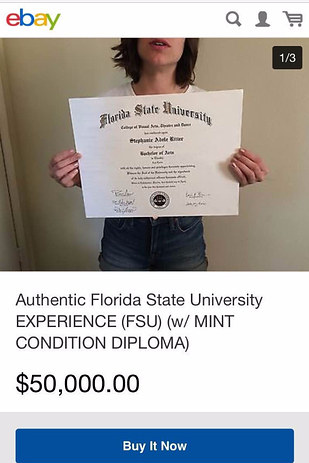 Stephanie even suggests "Ways you could use this diploma":
"Write on your resume that you have it!"
"Pose proudly next to it for a Facebook picture!"
"Hang it on the wall in your office!"
"As a very large coaster!"
"As set dressing for a movie about someone that went to a State School!"
"If your name is also Stephanie Ritter and you have $50,000 laying around for a really solid joke!"
In a statement to BuzzFeed:
I thought this piece of paper has so much worth to so many people, but for a theater major, it couldn't mean less. I'm doing the exact same thing and probably getting paid the exact same amount as people that dropped out halfway through freshman year, exxept I'm still $40,000 in debt and they're, well, not.
Despite her frustration with the reality of the job market and a theater degree, Stephanie says she would choose to go to college again. But this time, with a criteria. Stephanie would attend a college in a city so that she can earn more money to support herself, and more importantly, a college that is queer-friendly.
In a continued statement to BuzzFeed: 
FSU was great, but there were, like, 1,000 straight white men for every queer person," she said. "I didn't realize how important being around other gay people would be until I recently joined an amazing group of mostly queer women and thought, Oh! This is what I could've felt like in college?"
Stephanie also recommends sending letters to rich people around your town and asking them to sponsor your education. 
In the description of the eBay listing, Stephanie is also selling her "experience":
"Seriously though, I'm still $40,000 in debt and I work as a personal assistant in Los Angeles. Someone please buy my experience (diploma) and validate my use of time between 2007-2011."
Stephanie does have a plan B if the eBay sale doesn't work out:
"If that falls through, honestly, [I will] just do that thing where I pay the minimum for 25 years and then the government feels so bad for you that they wipe it clean."