Delta Air Lines could really feel the pinch as a result of severing ties with the National Rifle Association (NRA) after the school shooting in Parkland, Fla. that left 17 people dead on Valentine's Day.
After a multitude of companies dropped their affiliation with the NRA - for something the firearm organization had nothing to do with - Georgia's Republican Lt. Gov. Casey Cagle stated that he wouldn't approve of any legislation that gives Delta a tax break on jet fuel if the airline refused to reinstate its partnership with the pro-Second Amendment organization.
Delta used to have a $50 million sales tax exemption on jet fuel that they have been actively trying to get Georgia state legislators to reinstate. 
NBC News reported that Cagle, "president of the state Senate and a leading candidate to succeed Gov. Nathan Deal, tweeted that he would use his position to sink the proposed sales tax exemption on jet fuel."
Here's Cagle's tweet: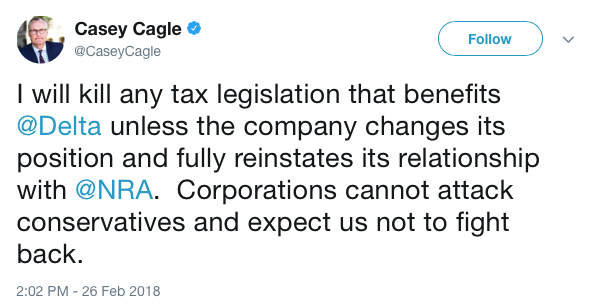 While there are other airlines that make their home in Georgia, Delta is the only major airline to base its headquarters in the state.
However, there's other questions that needs answering. Why should Delta receive an eight-figure tax break on jet fuel in the first place?
Conservative blogger Erick Erickson posted a breakdown of the story on Twitter: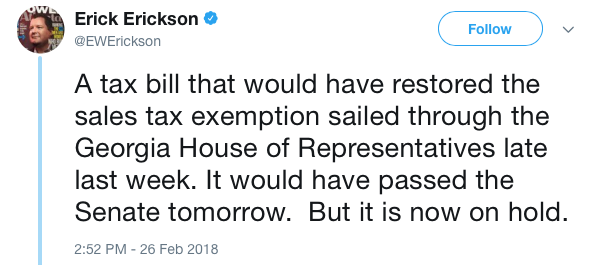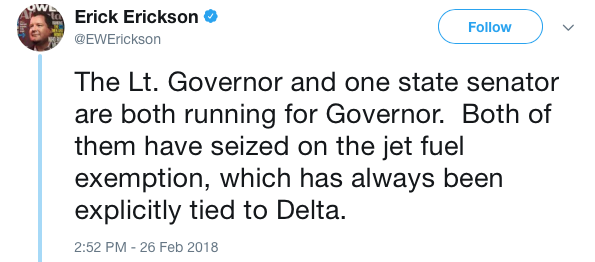 Regardless of the debate over Delta's tax breaks, one thing's clear about this whole debacle: the NRA and its members had absolutely nothing to do with the tragic shooting that has divided the country.