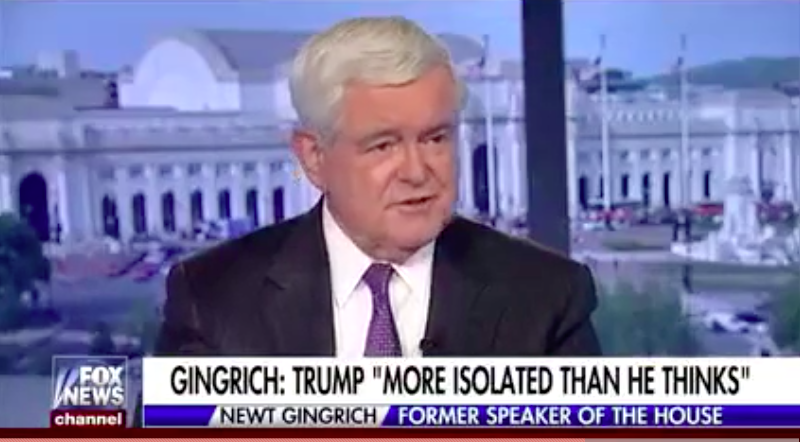 In the wake of the President's controversial remarks about Charlottesville, Trump ally and former Speaker of the House Newt Gingrich warns that the presidency is in trouble unless "serious changes" are made.
Gingrich said in an interview with Fox News Thursday night that Trump should take a page out of his own book "The Art of the Comeback" (1997) and "think about what hasn't been working and what he's going to do that would be more effective in the rest of his presidency."  
"I think he's in a position right now where he's much more isolated than he realizes," Gingrich said.
"You don't get down to 35 percent approval and have people in your own party shooting at you and conclude that everything's going fine," he went on.
"If he wants to get his agenda enacted -- if he wants get things done and have a presidency that is stable -- he is going to have to have a couple of serious changes," Gingrich argued.
He added that Trump is in a "qualitatively different position" now than he was when dealing with past scandals. 
"How many times have we had this conversation?" asked Fox News' Bill Hemmer.
"After a while, you've had enough people pull back that you're in a qualitatively different position," Gingrich replied.
His remarks come as news breaks of chief strategist Steve Bannon's exit from the White House.
Check out the former Speaker's remarks below.
Thank you for supporting MRCTV! As a tax-deductible, charitable organization, we rely on the support of our readers to keep us running! Keep MRCTV going with your gift here!