When Hollywood can't think of an original idea, which is often, they take an old established title or franchise and reboot it. Unfortunately for us, every time they take this route in recent years, they make it a social justice version that they think we want but never asked for.
The writing/directing duo of Scott McGehee and David Siegel are teaming up with Warner Bros. to give us a remake and adaptation of William Golding's 1954 classic novel, "Lord of the Flies."
But, there's a catch. McGehee and Spiegel are going to make this film adaptation consist of an exclusively female cast.
According to Deadline Hollywood, 
McGehee said the subject matter "is aggressively suspenseful, and taking the opportunity to tell it in a way it hasn't been told before, with girls rather than boys, is that it shifts things in a way that might help people see the story anew. It breaks away from some of the conventions, the ways we think of boys and aggression.
You know how to keep stories feeling fresh? Come up with an original idea instead of placing gender politics at the forefront, basing everything on a book or rebooting films that don't need rebooting.
"We want to do a very faithful but contemporized adaptation of the book, but our idea was to do it with all girls rather than boys," Siegel said.
How original and brave of you!
However, there's a silver lining to the news of this most recent progressive remake. Liberals are beginning to eat their own, and despite "Lord of the Flies" getting the "Girl Power" treatment, some of the modern feminists that we adore so much have come out of their Latte-infused comas to bash the writing/directing duo for assuming they know about women.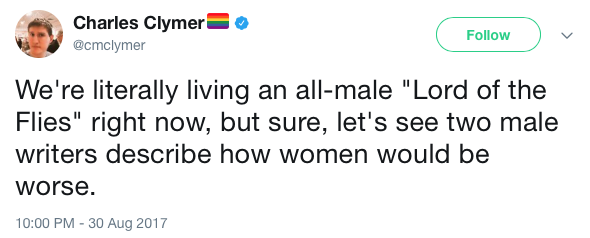 McGehee and Spiegel are the same writing/directing team that brought us 2001's "The Deep End," 2005's "Bee Season" and 2012's "What Maisie Knew." Don't worry, we've never heard of those films either. The combined gross for all three films is just under $20 million, which in general terms seems like a lot of money, but in box office terms doesn't amount to much.
We all might as well sit back, grab some popcorn and watch liberals create their own real life "Lord of the Flies."
Thank you for supporting MRCTV! As a tax-deductible, charitable organization, we rely on the support of our readers to keep us running! Keep MRCTV going with your gift here!