Faculty and staff members at George Mason University are committed to creating a "Hate-Free Zone" on campus by using their positions to lecture about "oppression and privilege."
MRCTV found a copy of a flier advocating for a "Hate-Free Zone" at GMU's Women and Gender Studies Center.
The flier claims faculty and staff members "stand with our Muslim, immigrant, LGBTQ, and African American students at a time of great social unrest" by using their positions to teach about "racism, Islamophobia, xenophobia, homophobia, transphobia, anti-Blackness, and systems of oppression and privilege" in the classroom: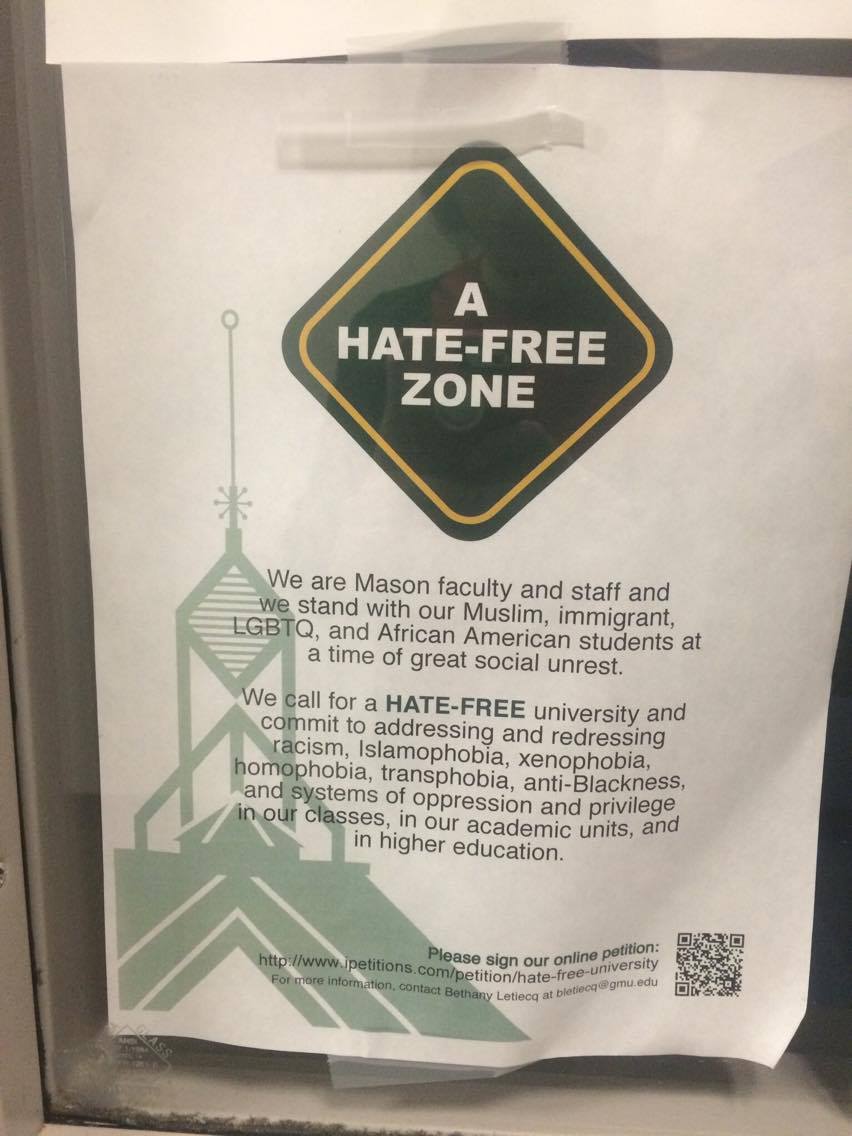 The flier also includes a link for faculty and staff to sign to show they support the mission of the "Hate-Free Zone" on campus.
According to Fox 5 DC, the "Hate-Free Zone" petition originated in response to the 2015 Islamic terrorist attacks in Paris and California. Rather than expressing sympathy with those affected by terrorism, the "Hate-Free Zone" flier and petition originated as a way to stand with the Muslim community against alleged Islamophobic backlash to the terrorist attacks. The report also cites then-candidate Donald Trump's push to ban Muslim immigration from America without "extreme vetting" as a justification for the petition.
Sarah Olibah, the 2015 president of GMU's Muslim Students Association, told Fox 5 DC, "It's a scary time. You can't pretend that it's not."
Sulaiman Ali, the vice president of the Muslim Students Association at the time, said, "With the hate and the bigotry that goes on, it is a little more difficult for everybody."
"You do have to understand that there are people out there who may dislike you simply because of a religion that you follow," he continued.
Conspicuously absent from the "Hate-Free Zone" includes any reference to protecting GMU's Jewish population from anti-Semitism. GMU ranks among the most anti-Semitic campuses, partially due to the rampant anti-Israel activism on campus.
George Mason University, a taxpayer-funded public university, currently caters to its Islamic population by providing a prayer room that is often reserved for Muslims and Islamic footbaths in the main community center on campus.
As of Feb. 27, the petition only has 248 signatures out of its 1,000 signature goal.