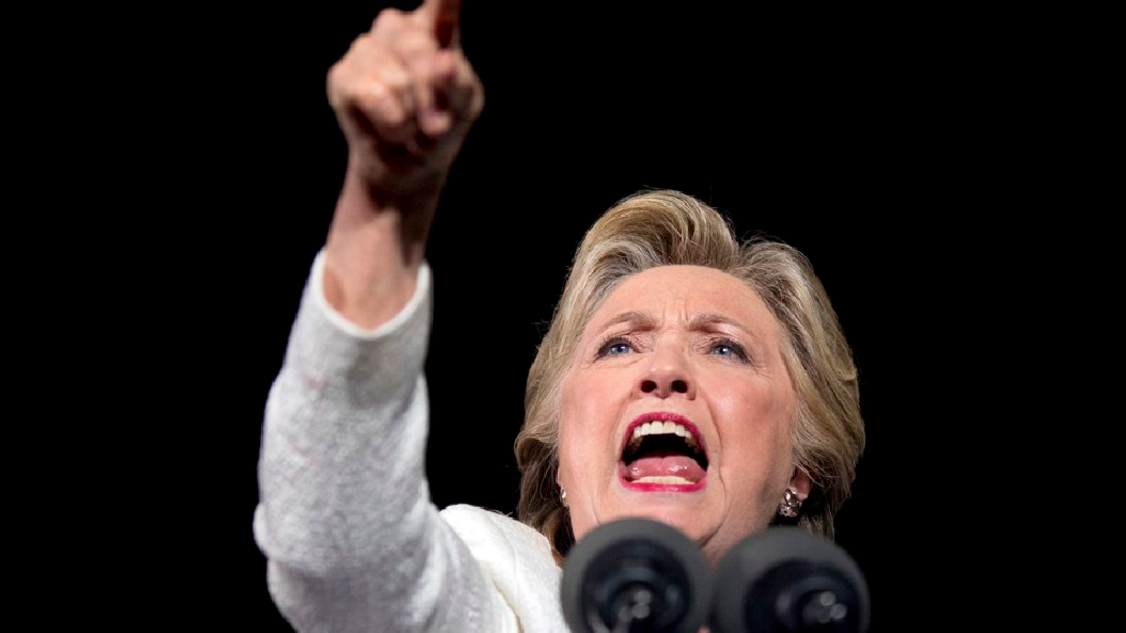 (Image via Twitter)
Hillary Clinton in her new book "What Happened" blames everyone – from her former opponent Bernie Sanders to former FBI Director James Comey to the media – for her loss in the 2016 presidential election.
In her book released on Tuesday, Clinton singled out the "schizophrenic" New York Times specifically for playing "an outsize role" in covering her email scandal.
"The Times, as usual, played an outsize role in shaping coverage of my emails throughout the election," wrote Clinton. "To me, the paper's approach felt schizophrenic."
She accused The Times of having a grudge against her, ever since its coverage of the Whitewater inquisition in 1994.  
"Over the years, going all the way back to the Whitewater inquisition, it's seemed as if many of those in charge of political coverage at the New York Times have viewed me with hostility and skepticism," she wrote.
"As a result, a lot of journalists see their job as exposing the devious machinations of the Clinton Machine," Clinton continued. "The Times has by no means been the only — or even the worst — offender, but its treatment has stung the most.
In an interview with NPR's "Morning Edition" on Tuesday, Clinton admitted her decision to have a private email server while serving as President Obama's secretary of state was a "dumb decision," but gave the brunt of the blame to the media for making it into "an even dumber scandal."
"It was a dumb mistake, but it was an even dumber scandal," Clinton said.
She seems to forget how damning the media was of then-Republican presidential nominee Donald Trump. 
As Hillary continues to promote her book laden with excuses – already on sale on Amazon for 40% the first day of its release – a new poll shows most Americans think she should just go away, reports MRCTV.
According to Rasmussen, a majority 61% of Americans say it's time for Clinton to retire.
Unfortunately for all parties involved, Clinton says she's "not done with politics" just yet.
Thank you for supporting MRCTV! As a tax-deductible, charitable organization, we rely on the support of our readers to keep us running! Keep MRCTV going with your gift here!