Radical leftwing YouTuber – because even ESPN wouldn't keep him – Keith Olbermann one-upped his own insanity Tuesday morning with a bizarre and wildly racially charged comment ostensibly aimed at insulting Donald Trump – by calling him a "whiny little Kunta Kinte."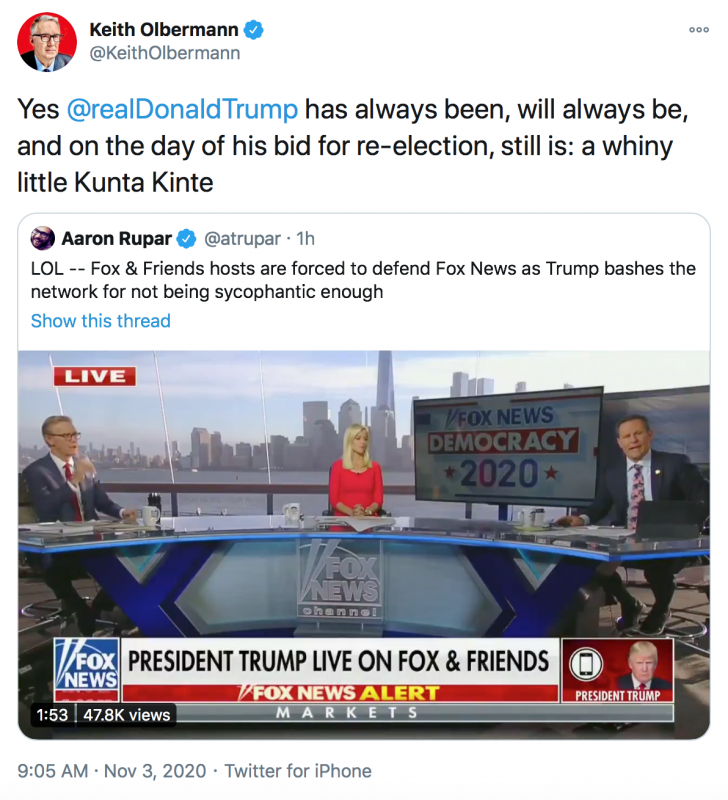 Which, at the very least, is inexplicably weird, considering "Kunta Kinte" is the primary character in the 1976 novel "Roots." In the book, he's an educated warrior who stubbornly retains his African identity and ties to his heritage even after being carted to America on a slave ship and forced to labor on a Virginia plantation.
The weirdness of Olbermann, also a former CNN contributor, comparing Trump to a protagonist African slave as a means of insult wasn't lost on Twitter – including for leftists who've got no love for the president.
 
If you had "Before 10 AM" for when Keith would lose his mind today, you win. This is awful, Keith.

— Shane Ford (@shaneford43) November 3, 2020
If you had "Before 10 AM" for when Keith would lose his mind today, you win. This is awful, Keith.

— Shane Ford (@shaneford43) November 3, 2020
how is this tweet still up, you absolute moron

— Bradley Stern (@MuuMuse) November 3, 2020
November 3, 2020
If you had "Before 10 AM" for when Keith would lose his mind today, you win. This is awful, Keith.

— Shane Ford (@shaneford43) November 3, 2020