Here's another story the radical media won't cover. Take it for what you will.
Apparently, Hunter Biden sent a 2017 email to the general manager of his old Washington D.C. office building telling her to "please have keys made available for new office mates. That might not seem so bad until you know who put on the list of people who need keys to said office.
According to a Daily Caller News Foundation (DCNF) exclusive report, Democratic presidential candidate Joe Biden, his stepmother Jill Biden, uncle Jim Biden and Chinese business partner Gongwen Dong were the "office mates" Hunter Biden referred to in the the email.
Dong was identified in the email as the "emissary" for Chairman Ye of "now-bankrupt Chinese energy conglomerate CEFC."
The email in question, as well as the response from the office building's general manager, can be seen at the link above.
The Daily Caller reported:
CEFC had wired $5 million to Hunter Biden's company, Hudson West III, less than two months prior to Hunter Biden's request to Browning that office keys be made for his father and the CEFC emissary, according to a Senate committee report released in September.

Starting on the day CEFC wired the funds to Hunter Biden's company in August 2017 through September 2018, Hudson West sent a total of $4.79 million to Hunter Biden's law firm, Owasco, for consulting fees, according to the report.

U.S. regulators flagged the first wire transfer to Owasco, dated Aug. 4, 2017, for "potential criminal financial activity," the report said.
The email also requested a sign for Hunter Biden's former office, with the sign reading "The Biden Foundation" and "Hudson West (CEFC US)."
Hunter Biden has been at the center of controversies for months, even though social media platforms like Twitter were actively censoring people for sharing the initial New York Post story of the contents of his abandoned laptop.
For his part, U.S. Attorney General William Barr knew about investigations into Hunter Biden, but "worked to avoid their public disclosure" prior to the 2020 election despite knowing about them "since at least this spring," according to a Wall Street Journal report.
A post-election poll from the Media Research Center, conducted by McLaughlin & Associates, shows 36 percent of Biden voters were NOT aware of the evidence linking Joe Biden to corrupt financial dealings with China through his son Hunter. Thirteen percent of these voters (or 4.6% of Biden's total vote) say that had they known these facts, they would not have voted for the former Vice President.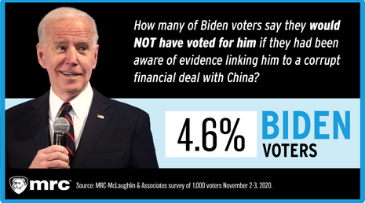 H/T: The Epoch Times