On October 9, pleistocene-era pop star Cher posted a cryptic tweet: "I'm outta here." 
The tweet followed two others which said "he is cancer" and "this is not a stupid astrological Joke.wake up & smell your country being destroyed." (Errors in the original).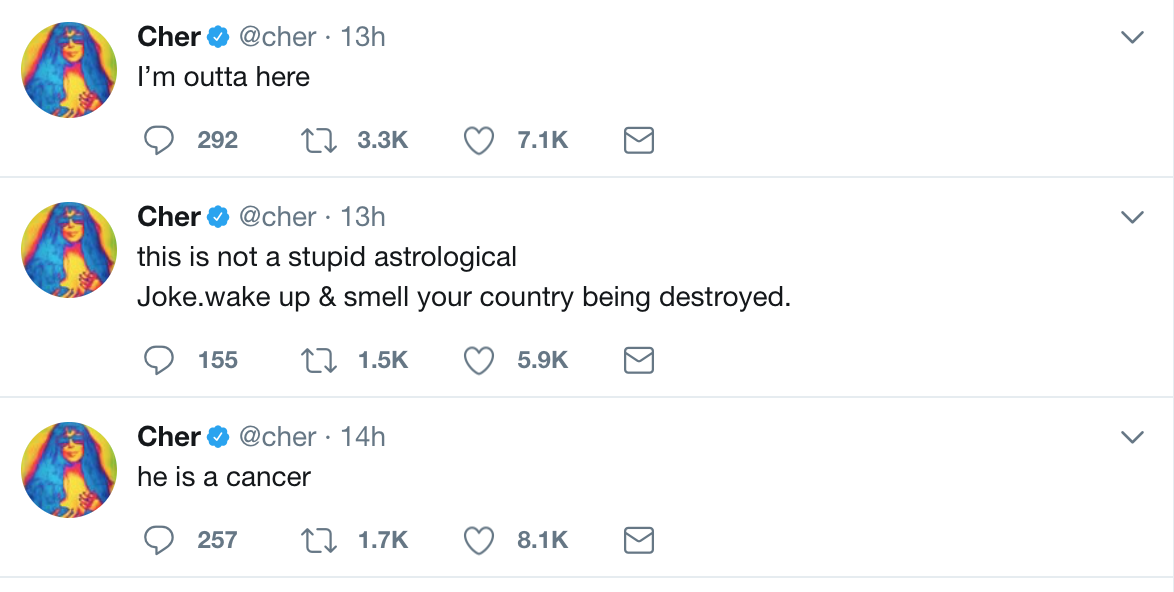 Has the "Turn Back Time" singer snapped? Is Cher about to make good on her promise to leave the country if Donald Trump were elected? In November 2016 Cher hosted a fundraiser in New York for Hillary Clinton. According to Page Six, the singer and actress told the event's attendees that if Trump wins the presidential election, "I'm going to have to leave the planet."
Cher had company: Miley Cyrus, Chelsea Handler and Amy Schumer all vowed to leave America if Trump were elected, only to change their minds later.
If Cher is for real this time, maybe we can take up a collection to send her to the moon. Maybe it will inspire other Hollywood lefties to follow suit.
Thank you for supporting MRCTV! As a tax-deductible, charitable organization, we rely on the support of our readers to keep us running! Keep MRCTV going with your gift here!