Despite the vast majority of people who are done with sports because of the constant social and political issues being injected into them not watching any of the Major American sports product anymore, there are still a few athletes here and there who are not afraid to stand up for what they believe is morally right.
It was reported on September 2 that Jacksonville Jaguars veteran tight end Tyler Eifert would buck the trend of players observing controversial figures who had been shot and killed by police by placing his focus on retired police captain David Dorn, who died trying to protect a local pawn shop from looters back in early June following the death of George Floyd.
Eifert followed through on the report, posting a picture of his helmet with Dorn's name emblazoned on the back to Twitter following his team's 27-20 victory over the Indianapolis Colts on Sunday. (Side note: Jacksonville had the only game in which a limited amount of fans were allowed to watch the game from the stands. All other stadiums on Sunday were empty besides personnel for the teams and TV outlets covering the games.)
The response from the "Twitterverse" was overwhelmingly and surprisingly positive.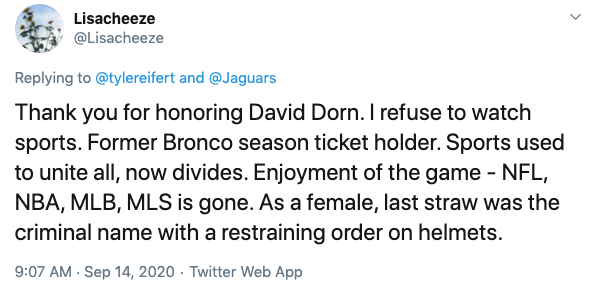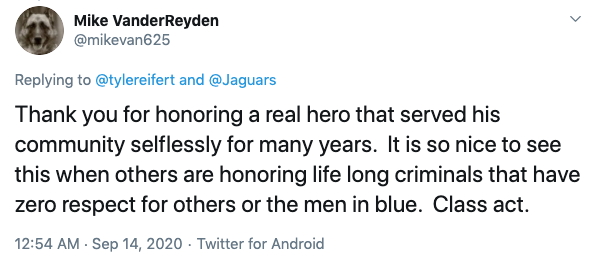 The NFL, as well as the other major American sports, have an image problem. They have a monumental way to go before people even think of returning to watch their product again. But, it's a great sign that there are still players willing to stand for those that don't fit the pre-approved narrative.