A Kentucky high school has come under fire from an outraged community and widespread social media scorn after photos showed a school-sponsored "event" in which male students – many of them minors, mind you – were photographed giving lap dances to faculty members while female students dressed in skimpy Hooters uniforms handed out drinks.
Yes, this is a true story.
Now-viral social media posts filled with disturbing photos from a homecoming event held in the gym of a Hazard, Kentucky high school show teenage boys dressed in lingerie dancing on several staff members including the school's principal-slash-town mayor, aptly nicknamed Donald "Happy" Mobelini. The posts referenced the event as a "man pageant" and showed laughing staff members being gyrated upon by boys while girls pranced around in Hooters waitress outfits comprised of booty shorts and skin-tight shirts.
 
INSANE: Mayor of Hazard, KY who is also the principal of Hazard High School, held an assembly with a male pageant. The students came dressed in lingerie and gave lap dances to the staff. pic.twitter.com/ZxODWQWOsx

— Libs of Tik Tok (@libsoftiktok) October 27, 2021

Here are a few more photos, with students' faces blurred for privacy. And full disclaimer: they may make you want to throw up in your mouth.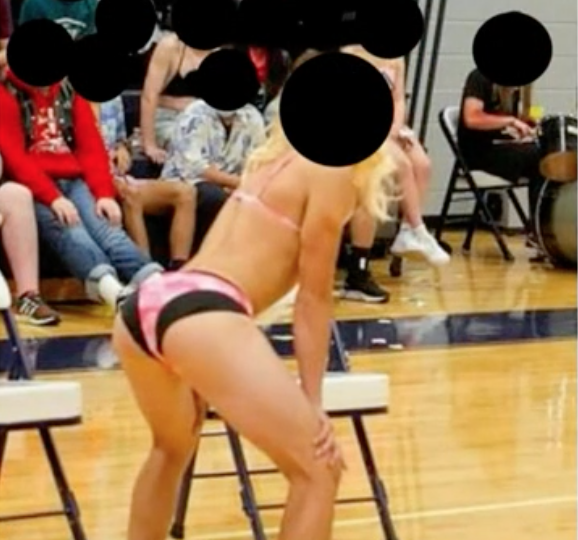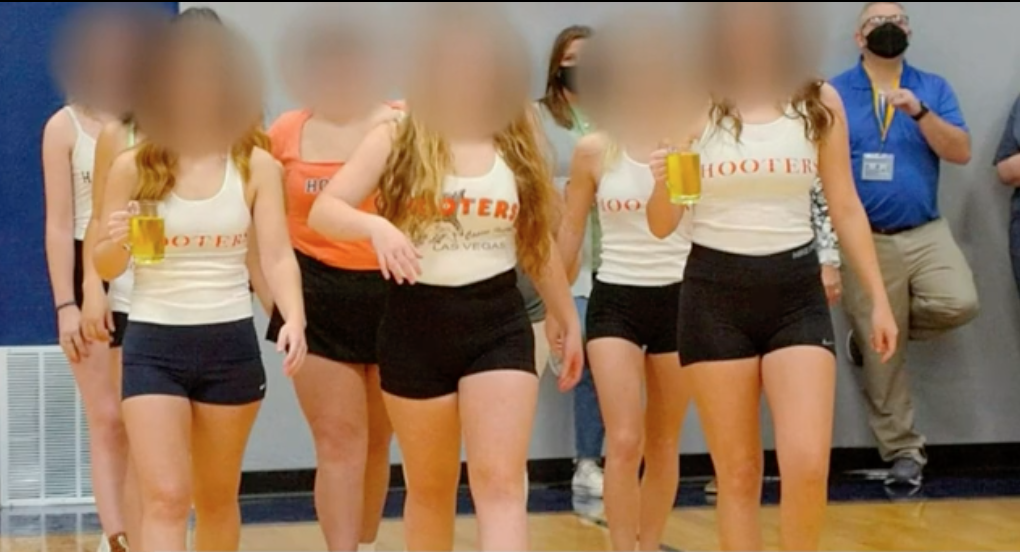 At the end of the "show," laughing faculty members then "spanked" bent-over students with paddles.
The school district first said that "the incident is under investigation" following understandable outrage from parents.
"The incident is under investigation and as you know anything under investigation I really can't talk about," Hazard Independent Superintendent Sondra Combs told the Herald-Leader. "Once the investigation is complete, appropriate action will be taken."
Related: Uncovered Email Confirms Loudoun County School Superintendent Knew Of Assault On Day One
Combs then released a statement blaming the students for the event, saying the entire thing was "driven by students" and, that while the school district "values our student's [sic] creativity," administrators will be "more vigilant" about policing its appropriateness in the future.
"At the end of the day, the light-hearted activity simply got out of hand, and for that, we apologize," Combs said in the statement. "In the future, we will strive to keep the lighthearted, fun nature of school activities without the inappropriate behavior…They are young and we will be there to offer better guidance for their ideas in the future."
The two-page missive did not place any of the fault on school faculty or administrators for the event, nor did it list what disciplinary action the school district plans to take on the grown male staffers seen laughing while being danced upon by adolescent boys, saying only that "appropriate disciplinary action has been taken" and that staff will implement "training" to make sure it doesn't happen again.