Update (4/23, 10:12 pm): It's now being reported that 10 people have lost their lives and another 15 have been injured as a result of the van attack in Toronto by the suspect Monday afternoon.
Update (4/23, 4:49 pm): During a press conference, Toronto Police have confirmed the deaths of nine people, with another 16 people injured.
Update (4/23, 4:16 pm): Reuters is reporting that "at least two people" have been killed and seven others injured during the van attack.
Update (4/23, 3:51 pm): Canadian Prime Minister Justin Trudeau sent out a tweet about the attack: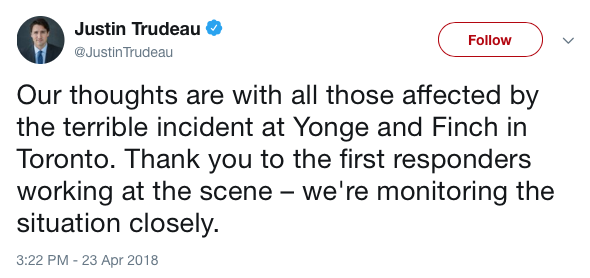 Update (4/23, 2:40 pm): The Canadian Broadcasting Corporation (CBC) has reported that Toronto Police said that they have the driver of the van in custody.
Update (4/23, 2:32 pm): Global News reporter Jamie Mauracher posted an interview with a witness to the situation on Twitter. The witness claims that the van seemed "in control as if he was aiming."
Update (4/23, 2:24 pm): CTV News in Canada is reporting:
Witness Alex Shaker, who was driving southbound at the time, says the van was travelling at high speed on the sidewalk.

"He started going down on the sidewalk and crumbling down people one by one," Shaker told CTV News Channel on Monday afternoon.
Original Story: According to reports coming from multiple Canadian news agencies, a van has struck several people in Toronto, Ontario Monday afternoon.
NEWSTALK 1010 - Toronto tweeted the following: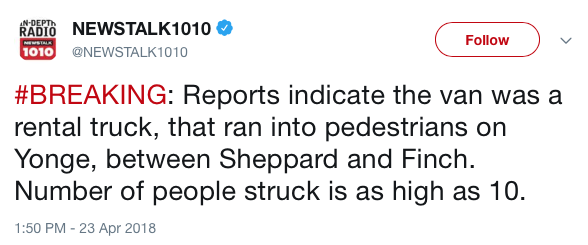 The Toronto Police Operations Centre's Twitter profile has been updating the situation: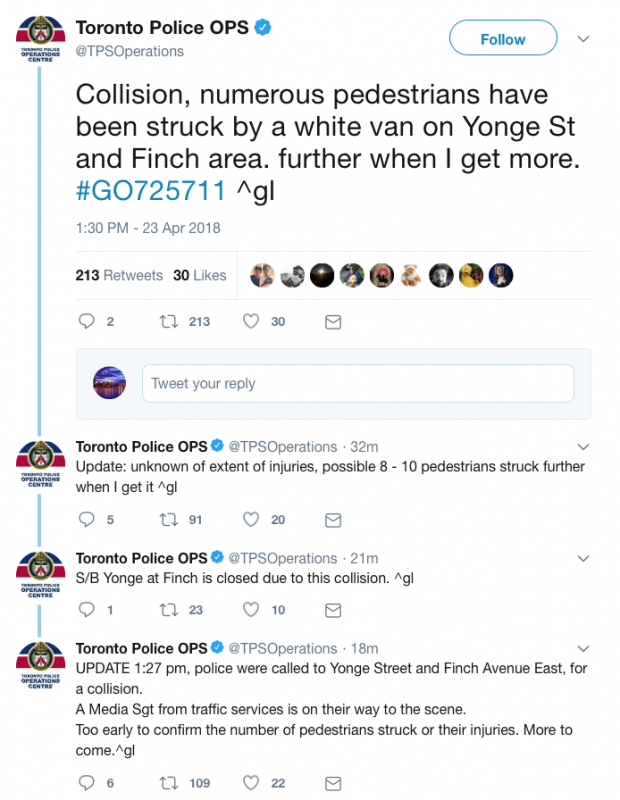 CTV News has reported that "initial estimates suggest eight to 10 people were struck."
A train line and bus shuttle service has been shut down for the foreseeable future, according to the CBC.
Check back with MRCTV for more on this developing situation.