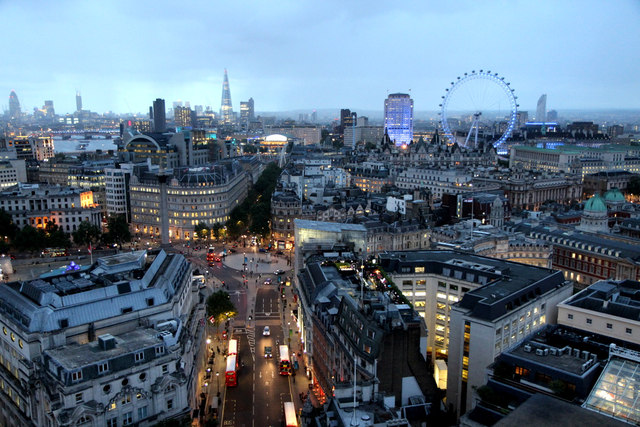 London is well known as one of the greatest cities in the world. Hosting visitors from every corner of the globe, its ancient streets, history, and architecture are backdrops to the busy lives of a population that numbers over 7 million and speaks more than 300 languages. It is a welcoming place, inviting anyone interested in peaceful interaction...
Unless those people happen to be driving into the city.
Since 2003, Central London has imposed from 7 a.m. to 6 p.m. weekdays a "Congestion Charge" of £11.50 per vehicle, per day (cabs are exempt), in its eight square mile "Congestion Zone." It's a way, many politicians claim, to curb air pollution and reduce the traffic jams on the old streets. Yet, despite the toll having raising £2.6 billion in its first 10 years (or perhaps because of it), London Mayor Sadiq Kahn just announced a scheme to more than double the fee for diesel cars and older "petrol" (gas) vehicles by 2019.
According to Querdya Ait Abdelmalek, writing for AFP:
Khan has already promised to ease out of circulation diesel buses and taxis, and will in October introduce a new £10 daily "toxicity charge," or T-charge, for the worst polluting vehicles in central London… He has now announced plans for a new £12.50 charge by 2019 for diesel cars more than four years old and for petrol cars more than 13 years old… This is in addition to the £11.50 existing "congestion charge."
Welcome to London -- if you've got the dosh.
Mayor Kahn's grand plan to increase the fee and "ease out of circulation" diesel buses and taxis could be seen in one of two ways, or perhaps a bit of both.
First, it certainly is possible that Kahn's sole desire is to lower pollution. But if that were the case, why shift the bureaucratic city planning focus towards building commercial office space that draws in daily commuters while turning out local residents who, generally, drive less than commuters and more often ride the glorious London public transit system, bike, or walk?
Perhaps there is another reason for Kahn's proposal... But, surely, it couldn't be the dosh…
In fact, while the current "Congestion Charge" reduced driving time a bit in the over 10 years since its imposition, those decreases have virtually disappeared as the government reduced car lanes in favor of bus and bike lanes that would "cut emissions." The brilliance of central planning at its best.
Meanwhile, the system itself is so inefficiently run, a study of its first 10 years of operation showed that 40 percent of its inlays were eaten up by operational costs and spending on (yeah, you guessed it again) building bus and bike lanes. That means billions in private money been wasted on a government plan that has done virtually nothing to curb congestion.
Meanwhile, retail shops, especially those in the West End, are being held hostage, as suburban customers see an increasing value in staying clear of the toll.
Mayor Kahn's plan to hike the fee will, he claims, "…tackle things like climate change, noise and importantly if we can get people walking, cycling... then you can tackle the problem have (sic) in lack of exercise."
Could be, but attributing this to changes in the tolls will be a difficult endeavor.
It seems much more likely that Mayor Kahn, already drawing fire for not eliminating a "temporary" tax on Londoners to help pay for the insanely over-budget (nearly five times above original estimates) hosting of the 2012 Summer Olympics. Though the Olympics expense has finally been paid, the tax remains. As Helen Cahill recently noted for CityA.M:
Gareth Bacon, London Assembly Member for Bexley and Bromley, said: "Sadiq Khan is trying every trick in the book to pay for his wild spending promises at City Hall, including taxing Londoners for a Games which has already been paid off… The mayor needs to apologise to Londoners for breaking his promise to remove this tax. He also needs to properly balance his books without using Olympic money, which was never intended to be his blank cheque."
Historically, Brits pushed back against the Romans for lesser offenses.