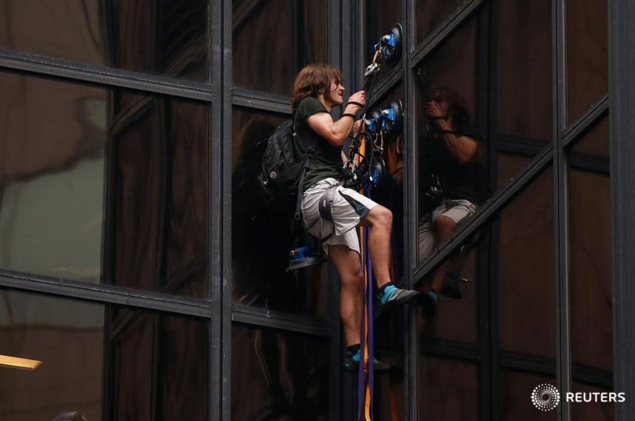 (Image via Twitter / Reuters)
Update:  The climber has been identified as 19-year-old Stephen Rogata from the Washington, D.C., suburb of Great Falls, Virginia.
Rogata climbed as high as the 21st floor before police grabbed him. 
He will be charged with reckless endangerment and criminal trespassing. 
Fox News reports that Rogata posted a YouTube video a day before his climb under the name Leven Thumps, "which is a character in a series of children's fantasy novels by the writer Obert Skye."
"I am an independent researcher seeking a private audience with you to discuss an important matter," Rogata says in the video. "I guarantee that it's in your interest to honor this request. 
"Believe me, if my purpose was not significant, I would not risk my life pursuing it. The reason I climbed your tower is to get your attention. If I had sought this via conventional means, I would be much less likely to have success because you are a busy man with many responsibilities."
5:39 P.M. - NBC 4 New York have identified the "Trump Tower spiderman" as Steve from Virginia. More details to come. 
Steve has officially been climbing for two hours. 
5:26 P.M. - Emergency units have set up an inflatable at the bottom of Trump Tower.
5:20 P.M. - The man appears to be speaking with police through the broken window. Nonetheless, he continues to scale the all-glass face of Trump Tower. 
5:15 P.M. - Fox News is broadcasting a livestream of the feat via Facebook. Watch it live here: 
5:07 P.M. - Police have busted a window in an attempt to intercept the climber.
He is currently maneuvering around the busted window.
His motive remains unclear.
5:04 P.M. – A man is scaling Trump Tower in New York City.  
He is reportedly using suction cups to climb the 58-story building.
Police have shut down several streets in midtown Manhattan.
Trump Tower is the headquarters for Donald Trump's presidential campaign.