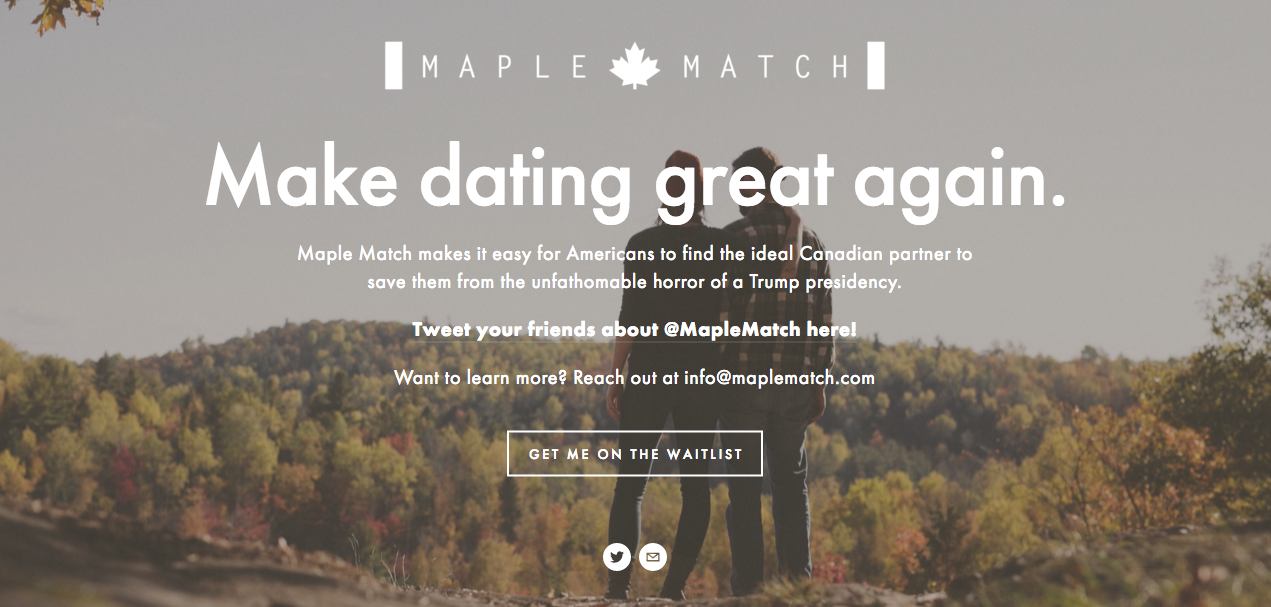 (Image via Screenshot)
We can't make this stuff up, folks.
There's now a dating website that helps Americans heading north because of their dislike for Donald Trump find their Canadian soul mate.
"Ever since Donald Trump announced he would run for the Republican Party leadership, Americans have been googling 'how to move to Canada,'" the Canadian news website CBC writes. "Now, there's a new website that helps them do just that — if they're single."
Maple Match launched about a week ago. More than 10,000 Americans and 2,500 Canadians have already signed up via the website's waitlist, CBC reports.
The front page reads the following: 
"Make dating great again. Maple Match makes it easy for Americans to find the ideal Canadian partner to save them from the unfathomable horror of a Trump presidency." 
Its CEO Joe Goldman insists, "Absolutely this is serious!"
"The 49th parallel is just a line and Americans and Canadians have so much in common," Goldman told CBC/Radio-Canada.
"A lot of Americans are quite uneasy, that's certainly a fact," he added, referring to the possibility of a Trump administration. 
Google searches for "how to move to Canada" skyrocketed following Mr. Trump's big primary wins early March.
Celebrities like actress Lena Dunham, comedian Whoopi Goldberg, and talk show host Jon Stewart have said they plan to leave the country if the presumptive GOP presidential nominee is elected to the White House.