Does anyone still watch ABC's "The Bachelor" or "The Bachelorette?" If so, maybe someone could explain to me what happened on the show that was so heinous that a legislator in one state authored a bill to keep this year's bachelor out of his state.
Here's another example of American citizens tax dollars hard at work.
Minnesota State House Rep. Drew Christensen (R) apparently thinks it would be a great idea to keep "Bachelor" Arie Luyendyk Jr. out of the state following a reversal of fortune for Luyendyk's original pick to be his fiancee.
The 24-year-old Minn. legislator originally tweeted on Monday about his promise to author the bill should he get "a thousand retweets." As you'll see below, Christensen's tweet has garnered over 11,500 retweets.
Here's Christensen's tweet: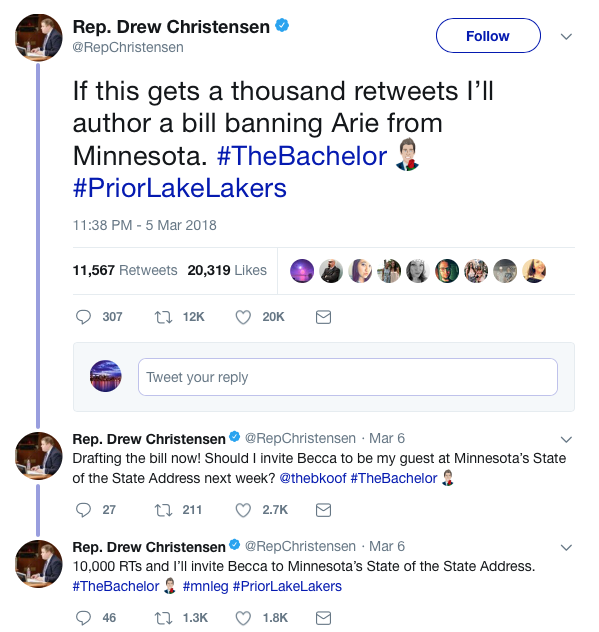 I guess Christensen's issue is that the woman who supposedly "won" the heart of Luyendyk Jr., Becca Kufrin, was jilted at the last minute by Luyendyk Jr. in favor of another woman who the bachelor apparently loved more, runner-up Lauren Burnham. Kufrin is from the district Christensen represents in Minnesota.
What a grippingly dramatic turn of events! Honestly, I don't really care. So few of these reality show couples last anyway.
On Wednesday, Christensen kept his promise by tweeting out a draft of a bill that would essentially ban Luyendyk Jr. from the entering the state of Minnesota.
Here's the tweet: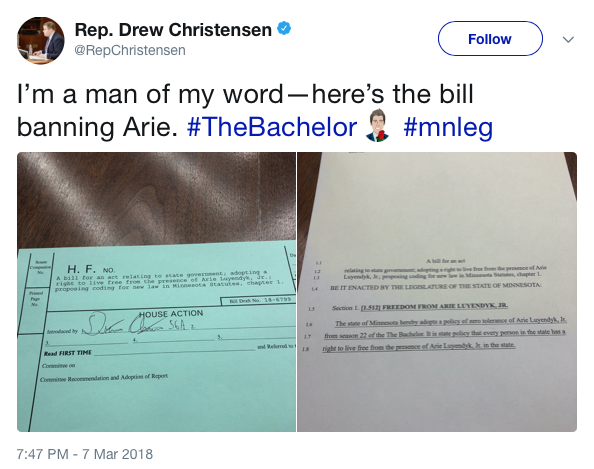 "The state of Minnesota hereby adopts a policy of zero tolerance of Arie Luyendyk, Jr. from season 22 of the The Bachelor," Christensen's bill read. "It is state policy that every person in the state has a right to live free from the presence of Arie Luyendyk, Jr. in the state."
It's not clear whether Christensen carried this out in jest or if he was just doing it for the attention-affirming practice of getting retweeted.
Check your state taxes, Minnesotans.
H/T: Fox 9 - Minneapolis