The Left in this country better thank their lucky stars that they live in the U.S., because if you live in another country — and are critical of that government — you could face some serious prison time.
New York Knicks center Enes Kanter's father, Dr. Mehmet Kanter, has been sentenced to 15 years in a Turkish jail on Monday. There's no word on what Kanter is actually charged with, but Enes thinks that his father was sentenced as a result of his opposition to the President Recep Tayyip Erdogan-led government in Turkey.
According to the Yaron Weitzman of Bleacher Report, the elder Kanter had an arrest warrant issued on him Monday morning. Kanter — who wasn't in Istanbul at the time the warrant was issued — is reportedly going to turn himself or be brought into custody when he returns to the city.
Here's Weitzman's tweet about the Kanter sentencing, including a statement from the younger Kanter: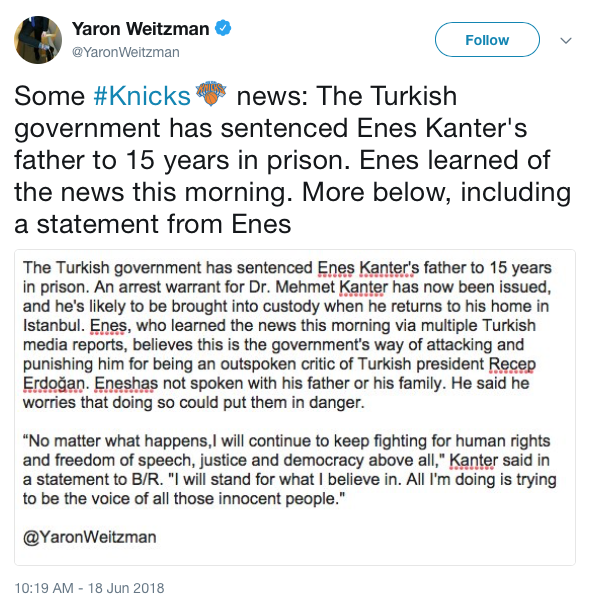 According to the Washington Free Beacon:
Kanter openly supports Hizmet Movement founder Fethullah Gulen, who is largely blamed for inciting a coup in July 2016 to overthrow the Turkish government. Kanter's family publicly disowned him after the coup because of his support for Gulen. Still, Turkish authorities sought to punish Kanter's father by imprisoning him for five days in 2017 while they investigated him for a connection to the coup.

In May 2017, Enes was detained at a Romanian airport after his Turkish passport was canceled. He posted a video on social media where he called Erdogan a "dictator" and called him "the Hitler of our century."
Erdogan has previously been under fire for his alleged human rights abuses in Turkey, including the "prosecution and jailing of journalists." While visiting the Turkish embassy in Washington in May of 2017, Erdogan gave orders to his bodyguards to assault protesters of his regime.
If the reports that Kanter was jailed for political opposition are true, then — much like Tommy Robinson in the U.K. — lives will be ruined and possibly lost for practicing freedom of speech.