You mean to tell me that the sporting goods business that raised the minimum age to buy a gun and stop selling "assault-style weapons" is losing business? Nah! You're pulling my leg, right?
Well, duh!
After the tragic February school shooting in Parkland, Fla., Dick's Sporting Goods overreacted and decided that it would severely hamper a portion of their business that used to be one of the things they were known for.
Dick's CEO Edward Stack announced his company's policy changes towards gun sales on Twitter: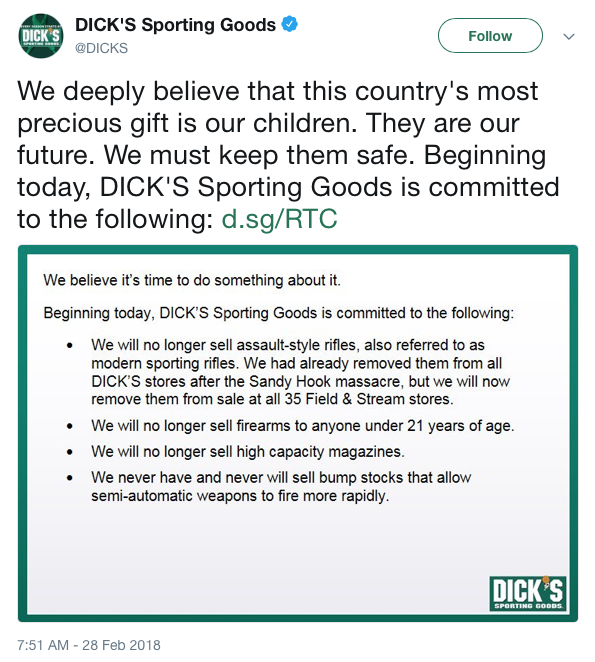 Now, Dick's is apparently reporting that the only segment of their business that didn't do well in their first-quarter 2018 earnings report was — their hunting business.
"Our firearms policy changes impacted our hunt business which saw an accelerated decline," Dick's CFO Lee Belitsky said. "We expect these businesses to remain under significant pressure throughout the remainder of the year."
Ya don't say? Business Insider reported that because of Dick's strong stance after the Parkland shooting, "it may be hard to go back to gun distributors in the future."
"We don't have the best relationship with the firearms manufacturers right now," Belitsky said.
Hmm, could that relationship be strained because Dick's destroyed a good portion of the firearms they sold instead of returning them back to the vendors?
Despite Dick's hunting section seeing a sharp decline in sales, all other aspects of the business are apparently thriving as Business Insider reports that Dick's stock is up 29.53 percent this year.