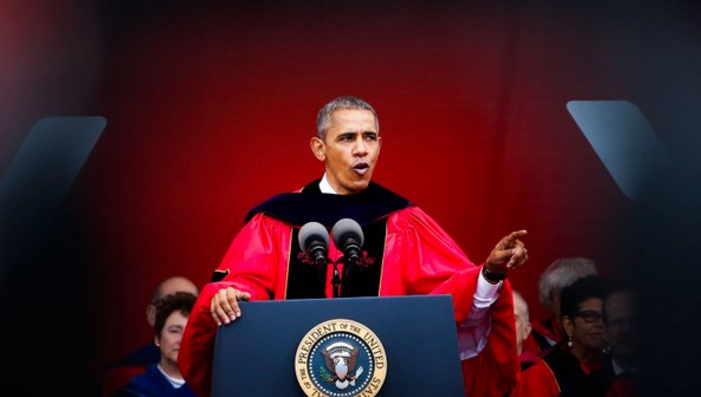 (Image via Twitter)
President Barack Obama took aim at Donald Trump during his commencement address at Rutgers University on Sunday.
Without directly naming the presumptive Republican presidential nominee, Obama criticized Trump for his rhetoric, his views on immigration, and his stance on global warming. 
He began by telling the graduating students at Rutgers to take Trump's "Make America Great Again" slogan with "a grain of salt."
"The 'good old days' weren't that great," said Obama. 
He proceeded to repeatedly slam Trump's plan to build a wall on the U.S.-Southern border, saying that "a wall won't stop" threats such as Islamic extremism or epidemics like Ebola or Zika from spreading. 
Obama added that "isolating or disparaging Muslims" and "blaming our challenges on immigrants" goes against core American values, referring to Trump's call for a ban on Muslims entering the United States and tough stance on illegal immigration. 
The President went on to call Trump's denial of global warming "a disdain for facts" and an example of "anti-intellectualism."
"Facts, evidence, reason, logic, an understanding of science—these are good things," said Obama. "These are qualities you want in people making policy… But if you were listening to today's political debate, you might wonder where this strain of anti-intellectualism came from."
"So, Class of 2016, let me be as clear as I can be: In politics and in life, ignorance is not a virtue," he said.
Trump has yet to respond to Obama's fiery remarks.
Watch his speech in the video below or read the full transcript here.