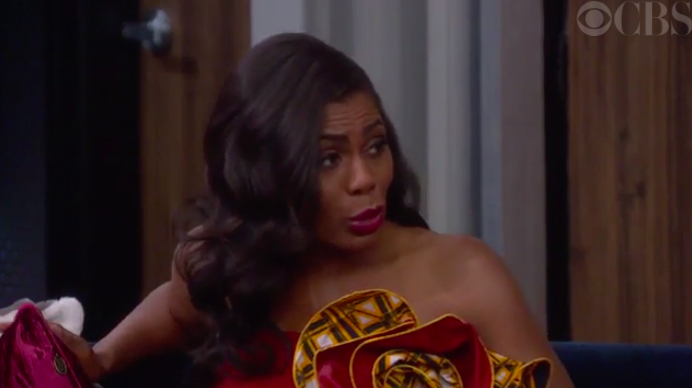 Former Trump White House staffer and "Apprentice" star Omarosa Manigault-Newman is warning liberals seeking the President's impeachment that they should be wary of "scary" Vice President Mike Pence.  
On Tuesday night's episode of the CBS reality show Celebrity Big Brother, Omarosa dished on her supposed inside scoop about the Vice President, saying that "everyone wishing for impeachment might want to reconsider."
She goes on to trash Pence's faith, calling him "extreme" and "scary."
"Can I just say this, as bad as you all think Trump is, you'd be worried about Pence," said Omarosa. "Everybody that's wishing for impeachment might want to reconsider their lives."
"You would be begging for days of Trump back if Pence became president," she continues. "He's extreme. I'm Christian, I love Jesus. But he thinks Jesus tells him to say things, and I'm like, 'Jesus didn't say that.' Scary."
Her cast members are well aware of her reputation as the "queen of the boardroom," including Sugar Ray singer Mark McGrath who called her "a world-class reality TV villain."
"It's Omarosa time! Time to talk about her stint in the White House. But, you always have to remember, this is Omarosa, a world-class reality TV villain," McGrath said on the show. "And is it true? Is it game? Is it her story? Is it the real story? It's Omarosa's world and I'm just living it."
After her abrupt and dramatic departure from the White House, Omarosa insisted that she had resigned from her position as director of communications for the Office of Public Liaison – a role that no one could actually explain.
There were rumors that she was fired by Chief of Staff John Kelly, though the White House refused to comment.
A new Politico report claims that Omarosa was let go for abusing a White House car service known as "CARPET" as an office pickup and drop-off service, "something strictly forbidden by the federal government, according to three administration officials," Politico writes.     
In dramatic fashion, the report also claims that Omarosa "tried to storm the White House residence to appeal to Trump, according to one of the officials, accidentally tripping an electronic Secret Service wire that monitors entry and egress from the residence."
Omarosa capitalized on the spectacle surrounding her departure with a return to reality TV as a cast member of "Celebrity Big Brother," which premiered on Feb. 7 and runs through Feb. 25.
Check out her remarks below.
(Cover Photo: Screenshot)
Thank you for supporting MRCTV! As a tax-deductible, charitable organization, we rely on the support of our readers to keep us running! Keep MRCTV going with your gift here!