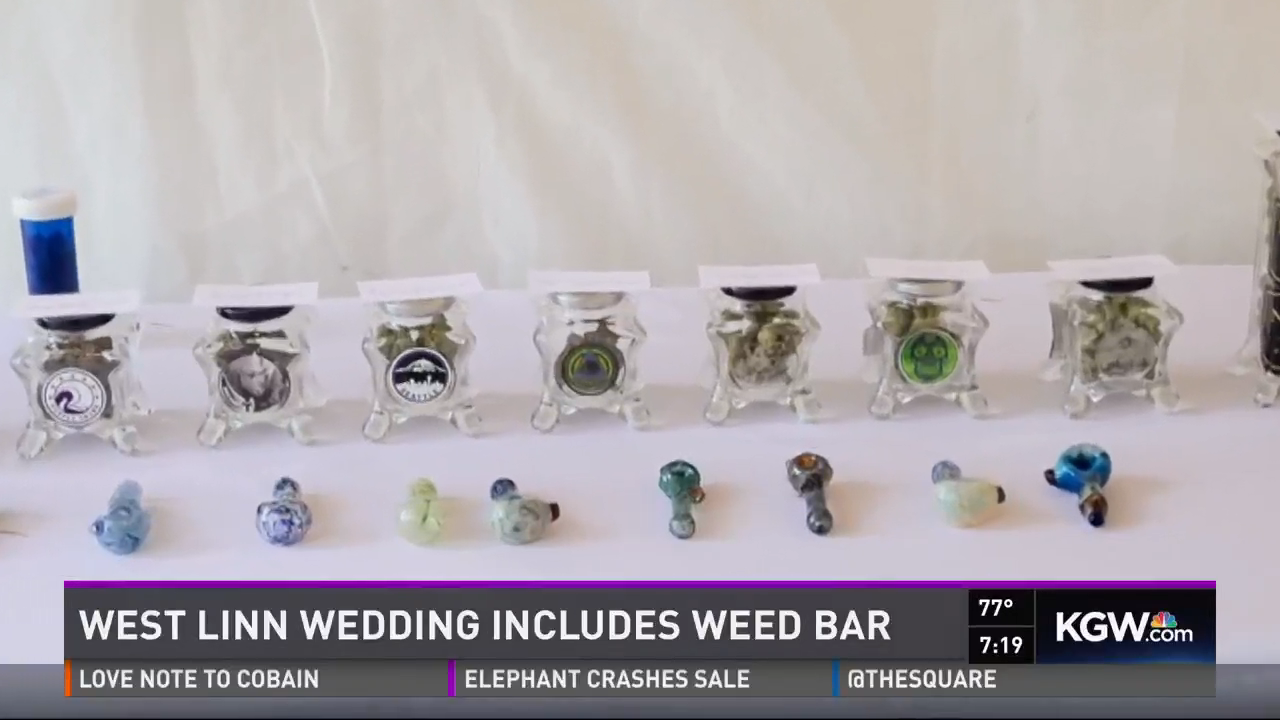 With the advent of loosening marijuana laws, many people have been thinking of strange ways to incorporate the drug into daily life. In this case, it became the main attraction at a wedding. 
A newlywed Oregon couple came up with the idea to provide guests with an alternative to an open bar stocked with liquor in the form of an open weed bar in a tent.
"We were shocked by how much people loved it," groom John Elledge said of their successful wedding gambit. "I'm still getting a couple of texts a day from guests who enjoyed the weed tent."
Though they may have liked to provide both types of open bars, the law dictates that caterers can't legally serve alcohol at any event that also provides marijuana. "Caterers should be aware there cannot be bartenders and budtenders."
"We made sure we were legal," said Elledge, "We know the limit is 8 ounces so we had small amounts of 13 varieties with a budtender controlling consumption."
This was a pioneer effort for their wedding planner. "This was our first request for a weed bar," said Nora Sheils, owner of Bridal Bliss, "We made sure everyone was safe and provided transportation. The couple provided the product and hired the budtender for the tent."
Former Oregon TV anchor and weed activist Cyd Maurer is very excited about this new concept. Maurer was fired from her TV job because of her failed drug test that mandated by her employers after being involved in a fender-bender. She wrote an opinion piece for pro-pot website Marijuana Politics where she said that she believes weed tents like the one provided at the aforementioned wedding will become the norm.
"Because legalization just took effect in Oregon on July 1, the idea of providing marijuana to wedding guests is still very new, but I believe cannabis-friendly weddings will inevitably become the new norm for modern nuptials. I believe this for a lot of reasons, but the main reason is simply because many people enjoy using marijuana in social settings. We will only see cannabis bars at more and more weddings and other social events as marijuana becomes more mainstream in Oregon and across the country."
"The growing trend of 'Cannabars' at wedding will expose more people to responsible adult cannabis use. This trend will hasten the acceptance of marijuana use," she proffered.
She also makes an argument stating that cannabis is a far safer alternative to the more traditional liquor bar.
"Another major positive to having weed at weddings? Consuming cannabis is safer than consuming alcohol. Whether it's a full-on open bar with hard liquor or just champagne for one toast – it's almost expected to provide your wedding guests with some form of alcoholic beverage."
"Knowing the dangers of alcohol, why not provide a safer alternative?" Maurer asked her audience, her tone seeming slightly desperate. "They are your loved ones after all. Wouldn't you rather them consume cannabis, something that causes less harm, is less addictive, and can't kill them?"
Is there an option for none of the above? Or can Americans not live without mind-altering substances?