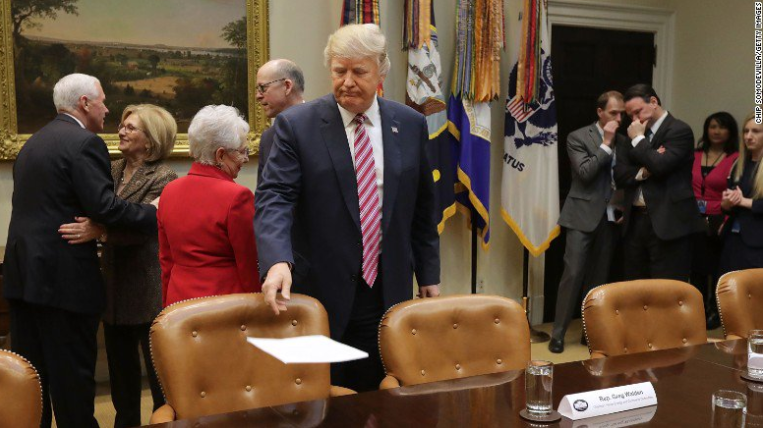 (Image via Twitter)
A majority of Americans expect race relations to deterioriate under President Trump, a new McClatchy-Marist Poll survey reveals.
According to the data, 52 percent of Americans think race relations will get worse, compared to 26 percent who say they will improve, 18 percent who expect little to no change, and 4 percent who are unsure.
Along party lines, most Republicans (63 percent) are optimistic that race relations will improve under the Trump administration. Just 12 percent of GOP respondents feel otherwise.
A whopping 79 percent of Democrats expect race relations to worsen. Only 6 percent of Democrats think race relations will improve. 
Among independents, 54 percent expect race relations will deteriorate, as opposed to 24 percent who predict the opposite.
While the poll data appears gloomy, the percentage of Americans who say race relations have gotten worse is down 7 percent from 2015 -- then observed under the Obama administration. 
"A majority of Americans remain downbeat about the overall status of race relations in the United States, although that number has improved," Marist Poll explains. "51% of Americans say race relations in this country have gotten worse in the past year, but that is down from 58% in September 2015. However, there has been an increase in the proportion of Americans who say race relations are status quo and characterize that as a bad thing, 25% up from 20% previously."
"Only 10% currently report race relations have improved in the United States, and 9% believe race relations have remained the same which they consider to be a good thing. These proportions are similar to what was reported in 2015."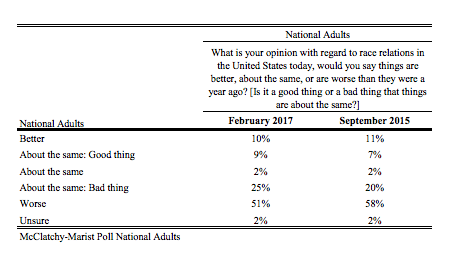 (Image via Marist Poll)
H/T: The Hill
Thank you for supporting MRCTV! As a tax-deductible, charitable organization, we rely on the support of our readers to keep us running! Keep MRCTV going with your gift here!