While many who marched in gay pride parades across the country during the month of June derided corporate involvement in pride festivities, a recent survey shows that gays are more likely to purchase goods and services after corporations pander to their community.
A YouGov poll of self-reported gay, lesbian, bisexual, and transgender people in the United States found 43 percent of those in the gay community reported they are more likely to "search for products and services on my phone as a result of seeing posters and billboards," compared to just 33 percent of the general American population.
The poll found 35 percent of those who identified as part of the LGBT community were likely to search for products on the internet that they see advertised on television, compared to just 27 percent of the general population.
For all of the gay populations surveyed—those living in the United States, United Kingdom, and Germany—those who identified as being part of the LGBT community were more likely to search for products after seeing ads than the general populations of the respective countries.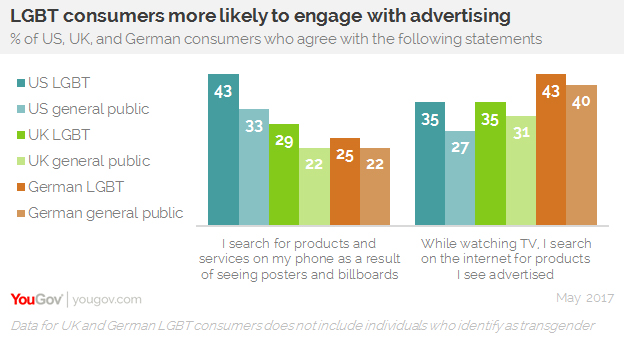 Despite the anti-corporate attitude of many of the gay pride marches, 51 percent of Americans in the LGBT community said they would like to see more advertisements with "families like mine." The poll showed 66 percent of American gays felt they "don't see [their] lifetime represented enough in advertising."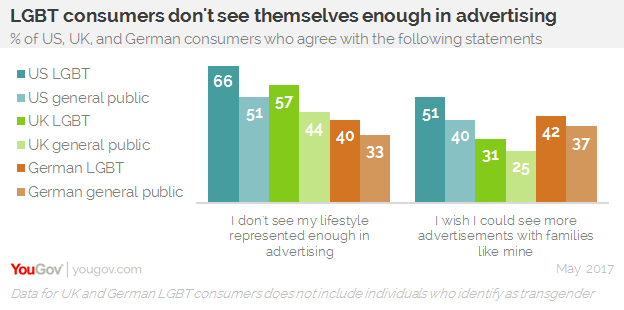 An analysis of LGBT consumers in 2017 indeed showed that for corporations that advertise specifically to the niche gay market, there is a payoff within the gay community.
YouGov asked people who identify themselves as gay, lesbian, bisexual, or transgender whether they've heard of certain brands in order to generate their "buzz" scores within the gay community.
Among the top brands for LGBT consumers that did not make the top brands for the general population include PBS, which features programming for gay pride and Target, which recently caused controversy with their transgender bathroom stance.
According to YouGov, the "most notable" brand appearing on the LGBT top 10 list (as well as the general public top 10 list) was Dove, which YouGov credits to Dove's #RealMoms campaign that included a transgender parent. YouGov clarified to MRCTV the data shows "Dawn" as a misprint for Dove.
YouGov's Buzz Rankings: LGBT Consumers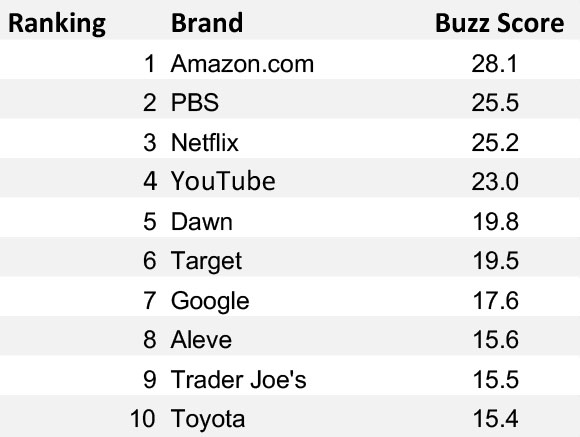 YouGov's Buzz Rankings: General Population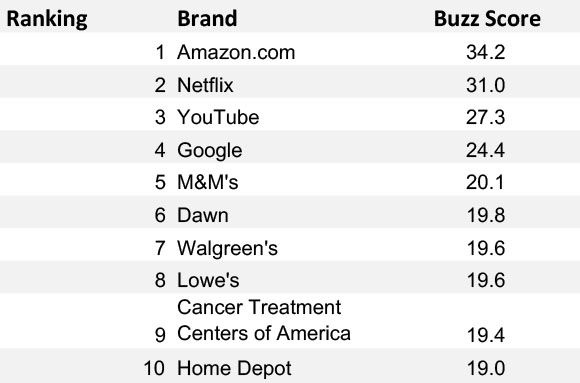 Despite the protests against corporations involving themselves in gay pride and making proclamations of support for the gay community, the survey and analysis show that compared to the general population, gay consumers are more likely to want to see themselves represented in advertisements, more likely to research products after viewing advertisements, and more likely to have a positive views of brands that support their community.
Thank you for supporting MRCTV! As a tax-deductible, charitable organization, we rely on the support of our readers to keep us running! Keep MRCTV going with your gift here!