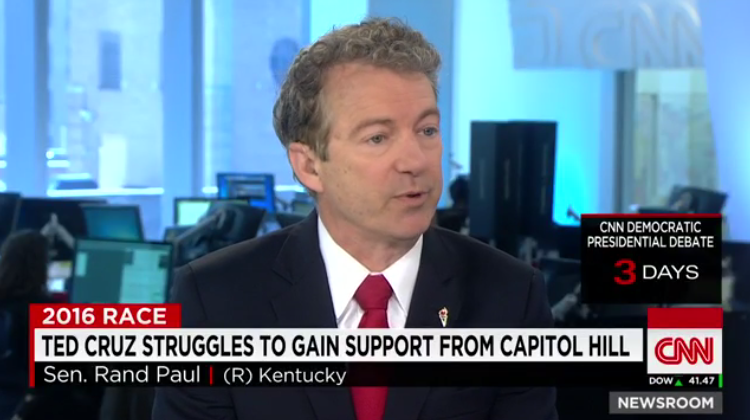 (Image via Screenshot)
During an interview with CNN on Monday, Sen. Rand Paul (R-Ky.) refused to weigh in on the 2016 race for the White House. 
The former GOP presidential candidate said that his job now is to "unify Republicans," rather than serve as "a spokesman for any particular candidate."
"You know, I think I've said my piece," said Paul. "Now I'm running for re-election in Kentucky, so I think my job is more to unify Republicans rather than to continue to point out what I think are some weaknesses of the candidates."
"I think my message is somewhat unique in the party," he went on. "I bring a libertarian sort of message – a message for privacy, less military intervention, a conservative military budget that doesn't cause us to go further into debt… So I want to keep promoting those issues, as opposed to being a pundit or a spokesman for any particular candidate."
The Kentucky senator later noted that he would support whichever candidate that secures the GOP presidential nomination.
Watch a clip from the interview below.